Welcome to this Friday's VTNS Fan Freebie!
Swedish weaving embroidery pattern posts are one of the most viewed on this blog. It could be because it's easy to learn and the designs look very complicated but really aren't.
If you're interested in learning Swedish (Huck) Embroidery, I have two previous blogs that will take you step-by-step through the process, beginning with the tools you'll need.
You can find those posts in their entirety using these links:
Swedish Huck Weaving Embroidery Instructions and Designs
AND
How to do Swedish (Huck) Weaving Embroidery
I really like the patterns I'm sharing today, they are geometric and colorful. Starting from a very easy wave pattern to a more intricate zig-zag.
Here's the full page of design patterns, I'll post each individually after it.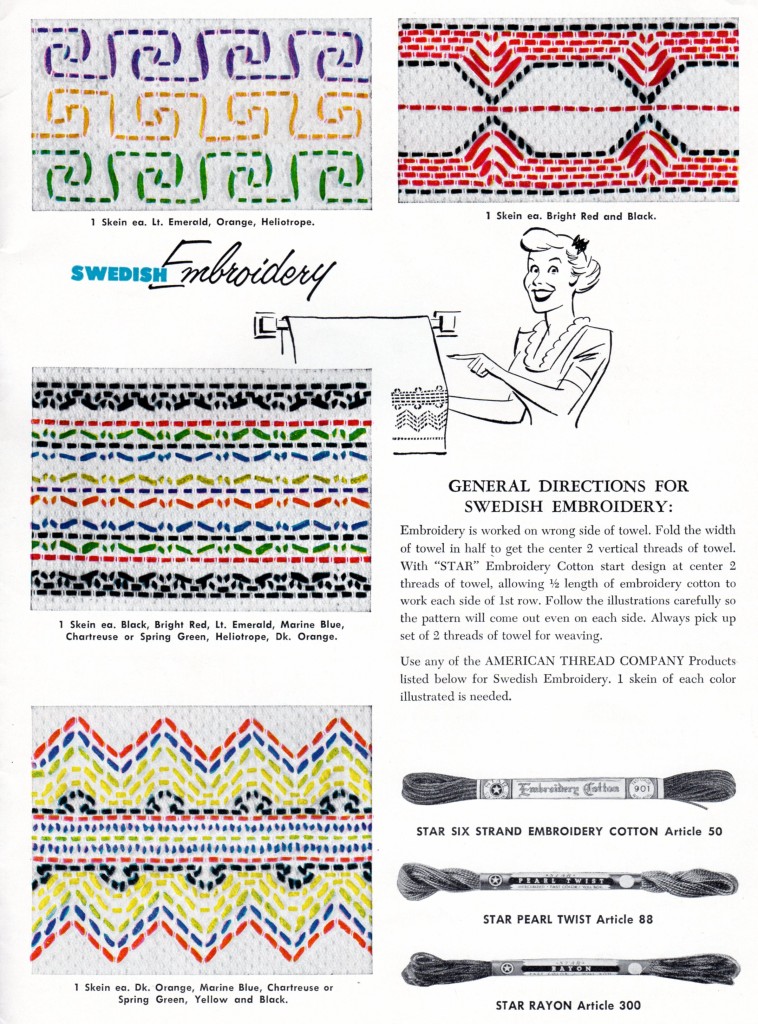 This particular page of Swedish embroidery patterns comes from a 1953 American Thread booklet called Pot Holders.
With these designs you simply follow the diagrams. Embroidery Cotton is used, the colors are listed, but you can choose your own combinations of colors.
There is a paragraph of General Directions for Swedish Embroidery, but using the links above to the previous posts will give you a more detailed How-To.

Below are the individual designs:
The two above seem to be the easiest, not having to deal with too many lines to follow. The next two are more intricate and require several colors, but they could be done in all one color and still make a great design for a towel, table runner or cloth.
If you'd like to save or print any of the patterns individually, click on the one you'd like, it will open in a new window and there you can save or print it using your computer's browser.
If you'd like to save these patterns for later as a PDF file, click on the link below:
Swedish Embroidery Patterns PDF
The pattern sheet is in PDF format so to read it you'll need the Adobe Reader software on your computer. Most computers come with it, but it is free and can be found here.
Download Instructions: Right-Click the link and select either "save target as" or "save link as" depending on what browser you are using or simply click on it and save or print.
If you like this page, be sure to share it with your friends and like our Facebook Fanpage so you can get updates every time we post new patterns.
Enjoy!
This post contains affiliate links. For more information, please see my disclosure policy.