Welcome to this Friday's VTNS (Vintage Textile and Needlework Sellers) Fan Freebie!
I was flipping through some of my Godey's Lady's Book and Magazine pages and found this little gem. It's an Old Father Christmas made of pine cones.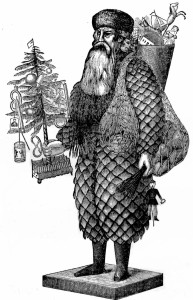 The doll is made of five cones, two for the arms, two for the legs and one for the body. The boots are made of wood and fastened to the board. The boots have a long point at the top which are inserted into the cones to form the legs.
Then the arms and legs are fastened to the body with glue and wire. The hands are formed from paper mache and are glued to the arms. The head is also paper mache and the hair and beard are flax.
A waistband is added to hide the wire. The neck and shoulders are covered with a black crochet comforter, the head with a fur cap. Several small accessories are added to finish him off.
This vinyl Santa Head and Arm Set could replace the paper mache one required for the Pine Cone Santa. The head measures about 3.5 inches and the hands are about 2.5 inches and they come in a package of 6 sets.
The full larger magazine page of instructions is available in the PDF file below:
Father Christmas made with Pine Cones
The pattern is in PDF format so to download it you'll need the Adobe Reader software on your computer. Most computers come with it, but it is free and can be found here. There are also free Adobe Reader Apps for mobile devices.
Download Instructions: Right-Click the link and select either "save target as" or "save link as" depending on what browser you are using or simply click on it and save or print.
Please share your favorite needlework hints, tips and projects in the comments below or with us on Facebook.
Enjoy!
This post contains affiliate links. For more information, please see my disclosure policy.