I've found a couple of sources that might help with reading vintage crochet patterns. I've got to say, I was surprised there wasn't more information about this online since there are so many public domain vintage crochet patterns available. Maybe it's something I should look into doing, in my spare time, of course. I'll add more links as I find them and please feel free to add your own ideas in the comments section below.
This site — Crochet Spot has a lot of information on crocheting and welcomes questions about deciphering old patterns. Here's a post on the same site called How to Read Crochet Patterns with Basic Crochet Abbreviations and some examples. Plus she has an amazing crochet archive of crochet patterns and information going all the way back to 2009.
Roving Crafters blog has a post on Vintage Crochet Terms Translated.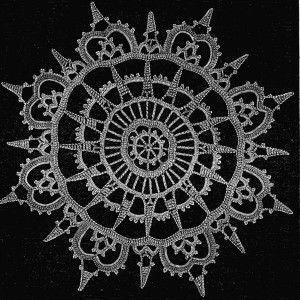 Here is the complete Encyclopedia of Needlework by Terese de Dillmont published in 1884 online. This is a classic needlework reference book even for today. I've linked to Chapter 9 on Crochet Work.
I've added this link because of the many crochet stitches presented and how to do them, which could give some insight into how vintage patterns were written. Also there's a pattern for a Crochet Star that has some similarities to the Lace Valentine motif crochet pattern post on my blog.
I found an interesting YouTube video from Interweave Craft, Translating Vintage Crochet Patterns with Karen Brock, that does a good job of explaining how to translate the terminology of yarn, hook sizes, and basic crochet stitches of vintage patterns.