A Word About Copyright
Copyright is complicated!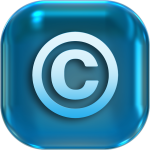 First of all, the patterns I share on this blog are to the best of my knowledge in the Public Domain. I do go through a process to make sure the pattern or article I share has never been copyrighted or the copyright has expired. However, I don't have a copyright attorney on call so your own due diligence is always recommended.
This means you are free to do whatever you like with them, whether that is to teach a class, share with friends or make and sell them.
What does the U.S. Government say?
Below is a simple outline of how the US government sees copyright terms and when a work expires into the public domain.  The work is in the public domain if it was:
Published in the U.S. before 1923
Published with a copyright notice from 1923 through 1963 without copyright renewal
Published without a copyright notice from 1923 through 1977
Published without a copyright notice from 1978 through March 1, 1989, and without subsequent registration within 5 years
You'll notice things changed a lot in 1978. Laws were passed that extended the term of copyright on works published after 1977 to the life of the author plus 70 years. That's a long, long time so we won't be seeing too many works become public domain during our lifetime.
The US government's Compendium of U.S. Copyright Office Practices, Third Edition on Visual Arts is full of good information. An example is this portion:
920.1
Patterns for Making Articles
The drawings and text in a pattern book may be copyrightable, if they are sufficiently original. This may include textual instructions, technical diagrams that demonstrate cutting, stitching, weaving, or other techniques required by the pattern, as well as illustrations of the completed items.
A registration for a pattern book generally does not extend to individual pattern pieces that may be used to create a useful article, such as shapes that may be traced and used to make a sleeve for a dress, because they have an intrinsic utilitarian function. Nor does the registration extend to any useful article that may be created with the pattern, such as an item of clothing.
Articles that help answer the question, Can I Copy That Pattern?
Instead of going into a long post about craft patterns and copyright, this article,  Can I Sell a Project I Make Using Someone Else's Pattern? with questions and answers at the end should be helpful.
The article is good and covers a lot of ground, but as you'll see from the Q and A that follows it, there are still some grey areas and disagreements about what is and is not copyrightable when it comes to craft patterns.
More Articles:
Here are a couple more blog posts about craft patterns in the public domain and copyright:
Super Mom No Cape!
Workbasket Embroidery Patterns and Public Domain
Yet Another Mom Blog
Can You Copy That? Part 1: Getting to Know Copyright Laws and How They Affect Us All
Creative Income
Be an Original: Copyright and Original Design
The Ohio State University
Patterns and Copyright Protections
Infographic — Copyright Guidelines for Crafters
Ginger Davis Allman at The Blue Bottle Tree website for Polymer Clay Tutorials and Information has added a wonderful post and infographic that goes into copyright guidelines for Polymer Clay Artists, but can be useful for any crafter or hobbyist.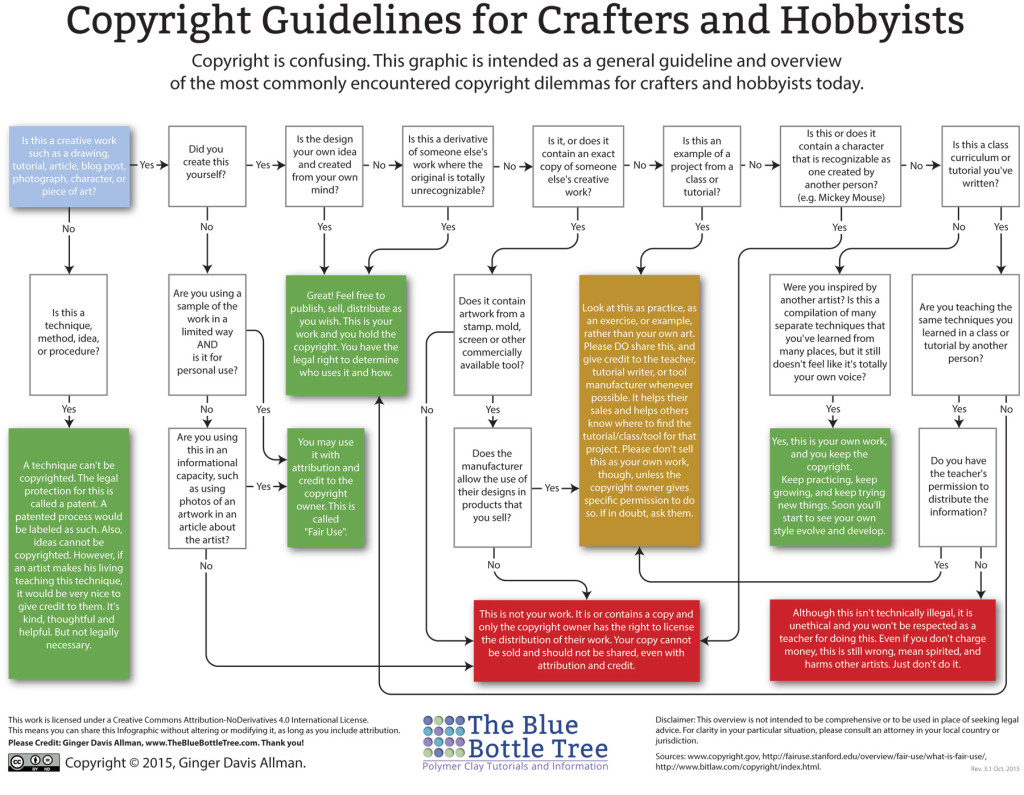 You could spend quite a bit of time researching copyright and how it pertains to craft patterns, but this is a start.
Always feel free to contact me with comments and questions at vintagecraftsandmore@yahoo.com.
Debra