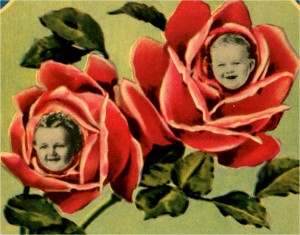 Back in December I shared a vintage Gridley Dairy order card with sweet baby faces on roses and recipes.  Today I have another order card with more baby faces and some "Green" recipes for St. Patrick's Day. These recipes are from 1929.
The first one is Green Corn Oysters, I know what you're thinking, oohee, but really there are no oysters involved, they're sort of a corn fritter or hush puppy and reading the ingredients they sound pretty good.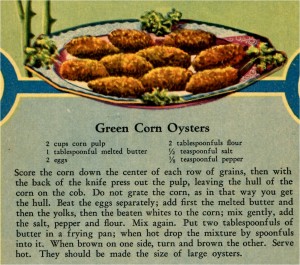 See, not so bad.
The next one is Green Corn Pudding.  I don't think this is a dessert, but more of a complimentary dish to serve with meat.

I'm not sure how they came up with the word "Green" in the titles of these recipes.  There's no call for green food coloring and none of the ingredients are green.  May be I'm missing something, if anyone has some information about them, please share.
Green or not, they sound good enough to try for a St. Patrick's Day meal.

Enjoy!