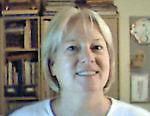 My passion is vintage craft patterns. Whether it's sewing, quilting, crochet or cross stitch. I've tried and loved them all.  I've even used a couple of the old sewing patterns I've found to sew dresses for my granddaughter.
I started attending estate sales, garage sales and auctions. I couldn't go past a thrift shop without stopping in to find what might be inside. My collection was increasing by leaps and bounds. I soon realized in order to keep feeding my vintage craft passion, I would have to sell some of the items that were quickly accumulating through out our home.
Before I met my husband, I was a single mom supporting two children by working in an office. Now I had the freedom to pursue working at home. It was in 2005 that I seriously started selling on eBay. Going out and finding great deals on craft items that I knew others who loved crafts would like.
Today I have an eBay store, vintagecraftsandmoreshoppe.com. My eBay philosophy is to "treat others the way I'd like to be treated." I believe 99.9% of the people using eBay are friendly and honest. eBay has always been a challenge, but a good one and never gets boring.
Many of the items from my collection I found qualified as public domain material and I wanted to be able to share the many vintage patterns I have so I started this blog. I'm finding that there is a technical learning curve with doing this, but I'm up for it. Just the thought of being able to share my passion makes me happy.
I hope you enjoy the patterns I share here!

Debra