Pom Pon Rug called Wedding Ring
Anyone attending a wedding soon? For this week's freebie I found a Pom Pon Rug called Wedding Ring. I would guess it's named that because of it's similarity to the quilt pattern with the same name.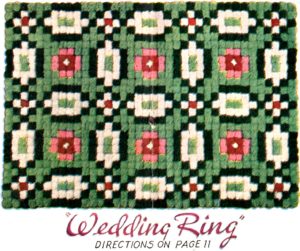 Lily Design Book
It's from a 1950 Lily Mills Company Design Book No. 54 titled Rugs ~ Needlepoint, Crocheted, Hooked and Fluff. The original cost was ten cents.
Vintage Lily Pom and Tuft Form
It uses Poms and Tufts to make it. The Lily company manufactured a form just for making rugs like these called a Lily Pom and Tuft Form. The instructions from the booklet to make the tufts using the form are below. I've also included them in the PDF file.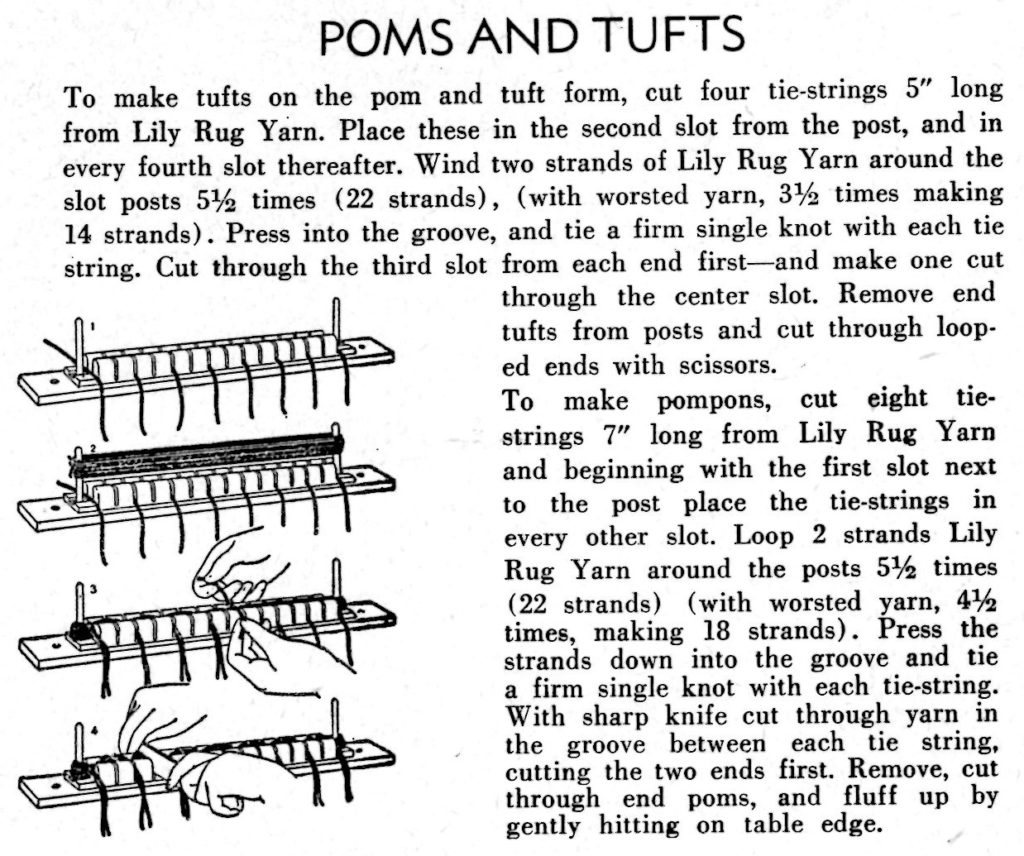 "A quick, neat way to make poms or fluffs for the beautiful kitten-soft Pom Rug"
Kitten-soft, nice! I found a couple vintage Lily forms for sale on Etsy and a couple on Ebay. The links are a search so if the ones I found are sold, it should pull up any others that have been listed.
What Yarn Should I Use?
The instructions call for Lily Cotton Rug Yarn. Here's the description of it in the booklet. This may help to find a good equivalent.
"A soft, quick-working, 4-ply cotton yarn, in a range of 33 boil-proof colors. Useful for rugs in hooking, crocheting, knitting, needlepoint and fluff — 70-yard skeins. Use Lily Cotton Rug Yarn for easily-washed, bright colored scatter rugs or room size rugs."
Lily's Sugar 'n Cream could be substituted, it can be machine washed and dried. The website Interweave has a good article, What's the Best Cotton for Bath Mats, comparing five different contemporary cotton yarns and how they fared using them to make a bath mat.
Chart and Instructions for the Pom Pon Rug


Another Pom Pon Rug Blog Post
For another Pom Pon Rug pattern blog post that has a little bit different instructions, look here: Simple and Fun Way to Make Rugs
Pattern instructions and chart PDF file download:
The pattern is in PDF format so to read it you'll need the Adobe Reader software on your computer. Most computers come with it, but it is free and can be found here.
Download Instructions: Right-Click the link and select either "save target as" or "save link as" depending on what browser you are using or simply click on it and save or print.
If you like this page, be sure to share it with your friends and like our Facebook Fanpage so you can get updates every time we post new patterns.
Enjoy!
This post may contain affiliate links. These affiliate links help support this site. For more information, please see my disclosure policy. Thank you for supporting Vintage Crafts and More.