Welcome to this Friday's VTNS Fan Freebie!
This is a pattern from a 1914 Home Needlework Magazine for Knitted Boudoir Slippers.
The slippers can be knit in either a plain garter, seed or basket stitch. The directions are given for each.
An earlier blog post, Beginner Knitting Manual, includes a booklet that has six pages of instructions on how to knit and the stitches used here. You can download or print the manual to refer to later.
Pink and White cotton Perle No. 3 are used. The knitting needle size isn't given.
The soles for the slippers are bought separately. These Boye Suede Slipper Soles and Boye Starting Points Suede Slipper Soles
come in several different sizes and have pre-punched holes for easy attachment.
The toes and top are embroidered with a pretty lazy daisy design in shades of pink, yellow center and green leaves cotton embroidery thread. They are finished with bows of ribbon.
Clicking on the pattern page below will open it in another window to save or print.
Here are the instructions for the Boudoir Slippers: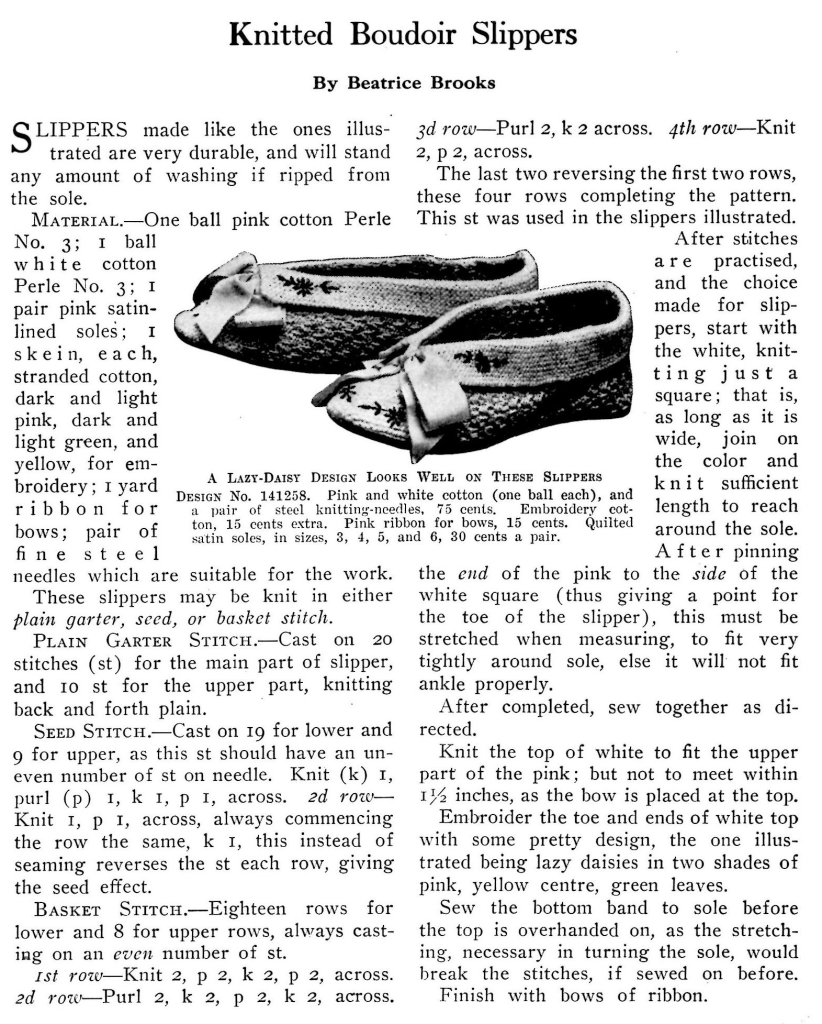 You can find some cross stitch patterns from this same magazine in this post, Home Needlework Magazine Vintage Cross Stitch Patterns.
If you like this page, be sure to share it with your friends and like our Facebook Fanpage so you can get updates every time we post new patterns.
Please share your favorite needlework hints, tips and projects in the comments below or with us on Facebook.
Enjoy!

This post contains affiliate links. These affiliate links help support this site. For more information, please see my disclosure policy. Thank you for supporting Vintage Crafts and More.