Welcome to this Friday's VTNS Fan Freebie!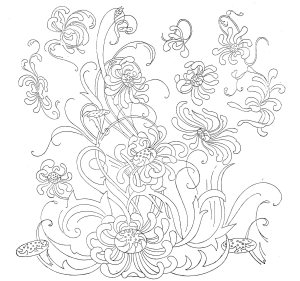 This beautiful design is from an early 1900's Belding's Silk Embroidery thread design book. It is a large floral design with several smaller designs included for use elsewhere on the embroidered item.
The large design measures approximately 5 x 5 inches and can be repeated. The smaller designs vary from 1 to 1½ inches. Of course, once it is printed out, either by clicking on the design above or downloading the PDF below, you can copy it and increase the size dimensions with your printer settings.
Although this lovely design is described in the booklet as a gown design, it certainly doesn't have to be limited to clothing. Buffet scarves, tablecloths and napkins would be some other good choices for it.
The instructions below are included with the design:
These artistic chrysanthemums are of every size and shape, more or less conventionally drawn. They are gracefully arranged for the entire front of the skirt of the gown, the loose ones designed to be scattered over the rest of the skirt, the waist and sleeves.
Some of the flowers are stretched out so as to fit over the shoulders, others for the front or back of the waist, and smaller ones for the sleeves. This is a most practical design, as it can easily be adapted to different materials.
It is embroidered with yellow or golden browns to royal on brown cloth. Long and short stitches tip the ends of the petals, also the conventional figures in the design. The dots at the centers of flowers are worked solid satin stitch with the dark shades.
The stems are outlined with the dark shades. Each flower is shaded with five or six shades, working one side light, growing darker to the opposite side. Some of the flowers are light, some medium and others dark. The leaves are shaded in the same manner.
(This Daffodil silk hand embroidery post has a pattern that demonstrates the shading they're suggesting in this paragraph.)
This design is also used for waists embroidered with these loose chrysanthemums thrown over them in a careless but artistic manner.
Here's the PDF file:
Chrysanthemums Embroidery Design
The pattern is in PDF format so to download it you'll need the Adobe Reader software on your computer. Most computers come with it, but it is free and can be found here.
Download Instructions: Right-Click the link and select either "save target as" or "save link as" depending on what browser you are using or simply click on it and save or print.
If you like this page, be sure to share it with your friends and like our Facebook Fanpage so you can get updates every time we post new patterns.
Please share your favorite needlework hints, tips and projects in the comments below or with us on Facebook.
Enjoy!