Welcome to this Friday's VTNS (Vintage Textile and Needlework Sellers) Fan Freebie about Swedish Huck Weaving Embroidery.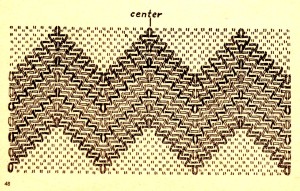 Excerpted from Aunt Ellen's How-To Book on Needlework:
Huck Weaving is a very simple type of needlework, but it produces strikingly beautiful effects. It is worked principally on huck toweling, although it may also be done on waffle pique, using the raised threads that mark off the small woven squares.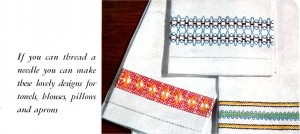 Use this weaving on huck hand towels, aprons, luncheon mats, scarves, peasant skirts, children's bibs or dresses, purses, pan holders, or any other article that can be made of one of these materials.
Colored huck towels are very pretty worked in contrasting border. For a pink or rose colored towel, work the design in wine thread or variegated; brown on yellow toned; navy on a light blue. The designs are also very nice worked in color on white.
The pairs of raised threads on the back of huck toweling (can be purchased by the yard) or towels are used for weaving the thread through. If towels are used, it is necessary to rip the hem and turn it up on the other side.
The weight of toweling will be a guide as to the weight of thread to use. Heavier threads such as six-strand floss, pearl cotton, wool yarn or heavy crochet thread can be used on heavy huck toweling.
Fine crochet thread, 2 or 3 strands of embroidery floss or light weight yarn are suitable for fine huck. A large eyed, blunt needle is best to use; the size depends upon weight of thread.
If you wish to use waffle pique, two waffle squares equal the distance between each pair of threads on the huck toweling. Follow any one of the designs and work same as on huck.
Count the pairs of raised threads to find the center and start the design in the exact center of the huck to be decorated, so that each side will end alike. The different sizes of huck will determine the size of the design you use.
Begin with a thread about 2 yards long or long enough to work across design without joining. Pull thread half through, leaving the remaining portion to work other half of design.
Carry thread through raised or warp threads of huck. Be careful to count accurately; do not let weaving thread go through to under side of material.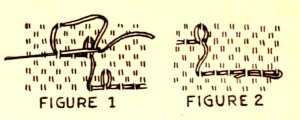 Make loop in one design as shown in Figure 1 of illustration. Work design to edge of article; fasten off by weaving the thread back through last few stitches as shown in Figure 2, cut thread.
Thread needle with dangling thread left from the beginning, turn chart upside down and work other half of row. It is necessary also to turn work around. Do not pull thread too tight or work will pucker.
Follow charts to work designs. When the article is finished, press on wrong side. Each one of the designs, when you click on them, will open in a new window so that you can save or print them for later.
Huck Weaving Patterns PDF
The 2-page PDF file of the patterns is below:
The pattern is in PDF format so to read it you'll need the Adobe Reader software on your computer. Most computers come with it, but it is free and can be found here.
Download Instructions: Right-Click the link and select either "save target as" or "save link as" depending on what browser you are using or simply click on it and save or print.
His and Hers
The "His" and "Hers" designs are intended to be end motifs on hand towels.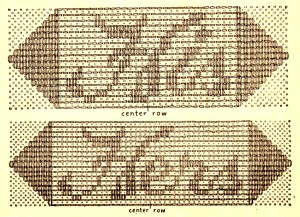 Bunny and Dog
The bunny makes an adorable decoration on a baby's bib, child's apron or blouse. The dog design could also be used in these ways.
Border Designs
The remaining designs are a collection of borders, for which there are many uses and which you may carry out in a wide variety of color effects.
More about Swedish Huck Weaving
If you'd like learn more about Swedish Huck weaving, take a look at this blog post:
How to do Swedish Weaving Embroidery
If you've done any embroidery that you'd like to share, please be sure to stop by our VTNS Fanpage, we'd love to see your work.

Enjoy!