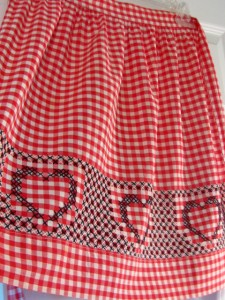 Chicken Scratch
The Urban Dictionary describes chicken scratch as incredibly messy handwriting nearly impossible to read.  Certainly that doesn't have anything to do with needlework?  Used as needlework, Chicken Scratch is a type of cross stitch embroidery done on gingham check fabric.
Depression Lace
It has many different names.  Such as Depression Lace.  During the Great Depression when women wanted to add lace embellishment to their clothing they used this stitch as an alternative to real lace.
I couldn't come up with any vintage pattern books that I could share here so I've linked to a couple sites about it on the internet. They will explain how to get started and give you some ideas what it can be used for.
What Will I Need?
Some of the items you'll need, besides the checkered fabric, is an embroidery hoop, tapestry or crewel needle and floss. Three simple stitches are used in chicken scratch embroidery – the double cross stitch, the straight running stitch, and the woven circle stitch.
Links to Show You How
It's very quick to learn and I've found a couple sites that show you how to make these stitches. The Nordic Needle has a very good explanation of what chicken scratch is and how to do it with photographs.
Next the eHow website has a good basic tutorial on How to Embroider Chicken Scratch
The Craftsy Blog calls it Amish Embroidery. They go in detail about what it is and how to use it in the blog post Deciphering the Chicken Scratch: The Story Behind Amish Embroidery
Sarah's Hand Embroidery Tutorials demonstrates stitches in this Chicken Scratch Lesson I
To demonstrate the General Directions for Chicken Scratch The Pegasus Originals website has shared a heart pattern. You'll find the heart used often in this type of embroidery.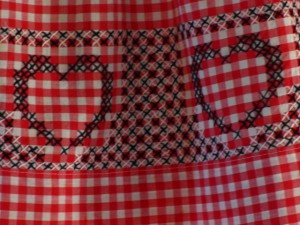 Depending on the size of the check in your gingham fabric and the color thread, you can come up with some very pretty designs.
I hope you give Chicken Scratch embroidery a try and if you do make something please share it on our Facebook page.
Enjoy!
This post contains affiliate links. For more information, please see my disclosure policy.