I found this vintage crochet pattern for a miniature party hat and thought, how appropriate for celebrating Mardi Gras.

The pattern is short and easy to follow. Just make sure you use the correct size crochet cotton to match the gauge.
These little hats in different colors would make sweet party favors for all kinds of occasions.
In another post I shared a pattern for a miniature hat and basket that would be great for Easter celebrations from the same vintage booklet. They can be found here along with more info about the booklet and crochet cotton used.
The photo of the adorable hat and instructions are listed below. If you'd like to print or save this page in PDF format, I've provided a green Print Friendly button at the bottom of the post :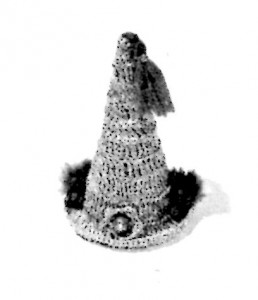 Materials Required:
Originally written for Cinderella Slipper Tinsel Crochet Cotton
Steel Crochet Hook #10

No mold required.
Gauge: 15 stitches = 2 inches
Ch 3, join with a sl st to form a ring.
Rnd 1: Work 6 sc in ring, join with a sl st to first sc
Rnd 2: Ch 4, work tr in first sc, 2 tr in each of next 5 sc, join with sl st to top of ch 4 (12tr)
Rnd 3: Ch 4, tr in same st with ch 4 (an inc), tr in each of the next 4 tr, 2 tr in next st (an inc), tr in each of next 4 tr (an inc), tr in each st to end (15 tr)
Rnd 4-5: Inc 3 tr in each rnd (21 tr)
Rnd 6: Work tr even (21 tr)
Rnd 7: Inc 5 tr in rnd (26 tr)
Rnd 8: Inc 4 tr in rnd (30 tr)
Rnd 9: Inc 20 tr, evenly spaced in rnd (50 tr)
Rnd 10: Work dc, increasing 5 sts in rnd (55 dc)
Rnd 11: Work tr, increasing 18 sts in rnd (73 tr), sl st in next st. End off.
Stiffening: See instructions below. In place of Plastic Mold, use 5 or 6 sheets of paper or cardboard 6" square and make a cone to fit snugly into hat to shape it. Turn up last tr rnd to right side of hat to form brim. Remove from cone before dry and stand on open end until completely dry. Trim.
STIFFENING: Use paper or other material to make a mold to drape the crown of the hat over. Follow the directions on a fabric stiffening product, but before hat is thoroughly dry, pinch around top of crown to form the hat shape. Carefully remove mold while still damp, then allow the hat to continue to dry. Apply a light coat of clear hobby spray lacquer/sealer when completely dry. Embellish with ribbon and flowers.
ABBREVIATIONS
ch………chain
dc………double crochet
inc……..increase
rnd……..round
rep……..repeat
sc………single crochet
sl st……slip stitch
st………stitch
tr………triple

Enjoy!

PinIt