Chic Checks You Can Cross Stitch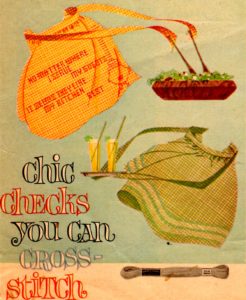 This vintage leaflet has patterns and instructions for three different aprons. These original designs are for embroidered gingham aprons. It's cross stitch on gingham fabric or Chicken Scratch.
My favorite of the three is this one: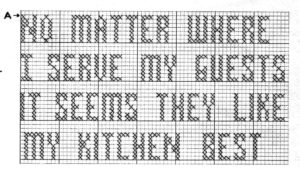 Boy that's the truth. Everyone likes to gather in the kitchen. Work this pattern in cross stitch for a nice framed sampler. Next is a pretty set of leaves on a branch that glide across the apron.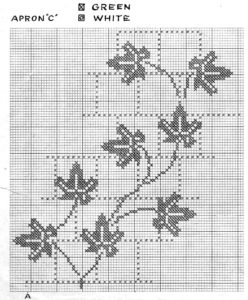 Save and print these patterns for later. Simply click on it, it will open in a new window and there you can save or print it. Also there's a PDF file below you can download.
Embroidered Gingham Aprons
This is a Coats & Clark's leaflet that was advertised in Redbook. No date, but could be 1950's or 60's. The instructions require six strand floss and a No. 7 embroidery needle. If you're interested in more information on this type of cross stitch take a look at this previous post How To Do Chicken Scratch Embroidery.
PDF Download
Embroidered Gingham Apron Patterns
The pattern is in PDF format so to read it you'll need the Adobe Reader software on your computer. Most computers come with it, but it is free and can be found here.
Download Instructions: Right-Click the link and select either "save target as" or "save link as" depending on what browser you are using or simply click on it and save or print.
If you like this post, be sure to share it with your friends and like our Facebook Page so you can get updates every time we post new patterns.
This post may contain affiliate links. These affiliate links help support this site. For more information, please see my disclosure policy.