Welcome to the VTNS Fan Freebie Friday! Cinco de Mayo was celebrated recently and it reminded me of the beautiful Mexican Drawn Work I've seen.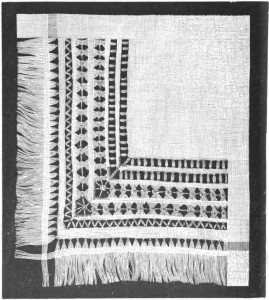 There's not a lot of information on Mexican Drawn Work, but I have a book that was originally published in 1889 about it called Fifty Designs for Mexican Drawn Work. You can find it reproduced many places on the internet and some original copies too. I thought I would share some of the instructions from this booklet.
The craft of drawn thread has been around a long time. It's a kind of openwork on linen where you remove some of the threads from the base fabric then rearrange or decorate the remaining threads with stitchery. It's used especially for doilies, table and dresser scarfs, place mats and anywhere a decorative cloth can be used.
To choose the linen for your project look for a plain cloth that will be easy to draw. The threads should be even and without lumps. The grade of linen will depend on it's intended use. A finer cloth for a baby's pillowcase and a more durable cloth for an every day table.
For the stitching a crochet cotton in eight to twenty can be used. It's best when the cotton is coarser than the woven threads of the fabric. Silk can also be used for a nice effect.
It's very important that a frame is used so that the item can be evenly and firmly stretched. A round embroidery ring in sizes three to eighteen inches in diameter can be used.
When the edge of the work is to be finished with a hem, the hem is usually hem-stitched. For information about hem stitching with this technique I've included the instructional PDF below:
Drawn Thread Work Hem Stitching
Many of the stitches used in Mexican Drawn Thread Work are common embroidery stitches. The PDF below is 17 pages of instruction on embroidery stitches used for drawn work from an antique publication.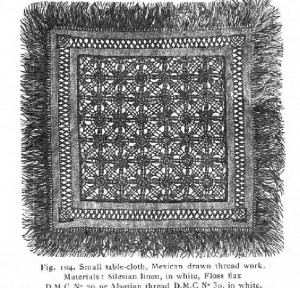 I've separated out and rewritten a small table cloth pattern from the same publication. You'll find it here:
Drawn Thread Work Small Table Cloth
I also found some patterns to share that could be used as edges on tea towels, pillows and handkerchiefs.
Drawn Thread Work Edging Patterns
This really is a fascinating type of embroidery that has many possibilities for use once you've mastered the basics. Hope this gets you started.
Enjoy!
You'll need the Adobe Reader software on your computer to read the pdfs. Most computers come with it, but it is free and can be found here.
Download Instructions: Right-Click the link below and select either "save target as" or "save link as" depending on what browser you are using or simply click on it and save or print.