Welcome to this Friday's VTNS Fan Freebie!
The great thing about filet crochet patterns is they can be used as cross stitch patterns as well.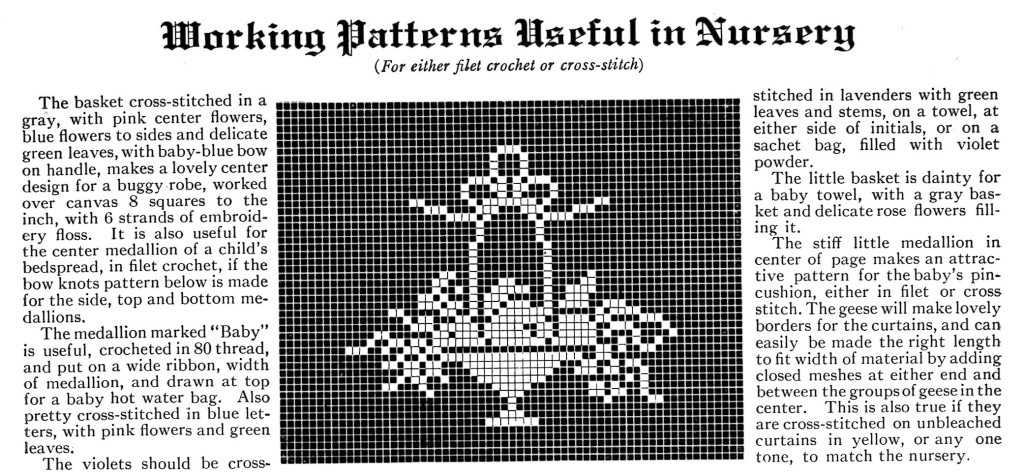 These charts are from an early 1900's Anne Orr booklet. They will get you started on a few baby items you can give as gifts or keep for yourself.
I've shared patterns from my Anne Orr booklets before and thought it would be fun to do some research on her and her contributions to the needlework community. As I started, I realized her contribution was so vast that I would like to devote a whole post to her biography and designs in the future.
For now, a quick paragraph will have to do.
Her full name was Anne Claiborne Champe Orr and she was born and lived in Tennessee, involved in many charitable works there.
Her career began with the Coats and Clark Thread Company but she eventually went on to own her own publishing company and published her design booklets through it. Her area of expertise was charted patterns.
She was a trailblazer in the needlework field, not just as a designer, but for the ability to provide employment for many others.
To be continued…….
One thing I find over and over again with the early booklets, is the pages are sometimes off center or skewed. As much as I try to scan them straight, there still seems to be a little lean to them, but all-in-all they're still very useful.
Each of the patterns below can be clicked on, opened in a new window and saved or printed.  If you'd like to have all of them on one sheet to save for later, the PDF file is located at the end of the post.
I've added some stitching suggestions provided for each chart in the booklet in my own words.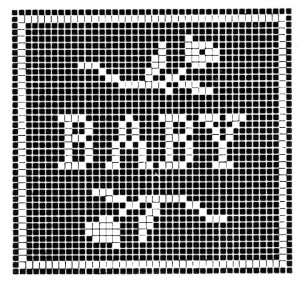 This medallion marked "Baby" is useful crocheted in 80 thread and put on a wide ribbon that's used at the top of a gift bag. Also pretty cross stitched in blue letters, with pink flowers and green leaves.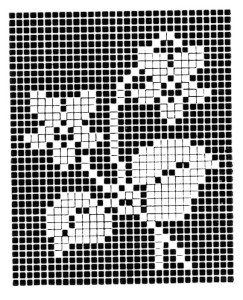 The violets can be cross stitched in lavenders with green leaves and stems, on a towel, on either side of initials, or on a sachet bag.

The geese will make lovely borders for curtains. They can easily be made the right length to fit the width of material by adding closed meshes at either end and between groups of geese in the center.
This is also true if they are cross stitched on unbleached curtains in yellow, or any color, to match the nursery.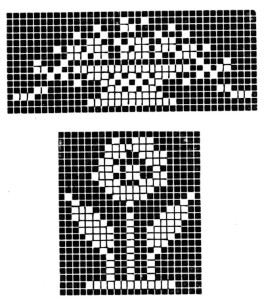 The little dainty basket and flower can be used for a baby towel, with a gray basket and delicate rose flowers filling it.

In filet crochet, this pretty bow knot can be made as the side, top and bottom of a child's blanket.
Cross Stitch or Filet Crochet Baby Nursery Patterns PDF
The pattern sheet is in pdf format so to read it you'll need the Adobe Reader software on your computer. Most computers come with it, but it is free and can be found here.
Download Instructions: Right-Click the link and select either "save target as" or "save link as" depending on what browser you are using or simply click on it and save or print.
If you like this page, be sure to share it with your friends and like our Facebook Fanpage so you can get updates every time we post new patterns.
Please share your favorite needlework hints, tips and projects in the comments below or with us on Facebook.
Enjoy!