Welcome to the VTNS (Vintage Textile and Needlework Sellers) Fan Freebie Friday.  Today for the new year we're learning a new technique – Tatting.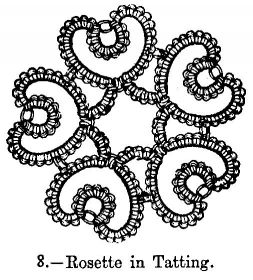 Tatting is a technique for handcrafting a particularly durable lace constructed by a series of knots and loops. It can be used to make lace edging as well as doilies, collars, and other decorative pieces.
Tatting is completely different from crochet, and is made up of stitches forming knots. It is intended to be an imitation of point lace, and it is often used for trimming under linen.
The lace is formed by a pattern of rings and chains formed from a series of half-hitch knots, called double stitches, over a core thread. Gaps can be left between the stitches to form picots.
Tatting dates to the early 19th century. The term for tatting in most European languages is derived from French frivolité, which refers to the purely decorative nature of the textiles produced by this technique.
Older designs, especially through the early 1900s, tend to use fine white or ivory thread (50 to 100 widths to the inch) and intricate designs. This thread was either made of silk or a silk blend, to allow for improper stitches to be easily removed.
Newer designs from the 1920s and onward often use thicker thread in one or more colors. The best thread for tatting is a "hard" thread that does not untwist readily. DMC Cordonnet thread is a common tatting thread; Perl cotton is an example of a beautiful cord but is a bit loose to use for tatting.
The sky is the limit when it comes to embellishing tatting designs. Many incorporate ribbons and beads to make them sparkle.
Besides downloading the instructions provided here, there are several video demonstrations of Tatting on YouTube. It may help to actually watch someone doing it. I especially liked this tutorial video:  Tatting Instruction Video
We've included several vintage tatting patterns too, a rosette and several edgings.  Hope you have fun giving this great needlework craft a try.
Enjoy!
Download Instructions: Right-Click the link below and select either "save target as" or "save link as" depending on what browser you are using. Once you've downloaded or printed the instructions, be sure to hit your browser's Back button to return to download the patterns.