Welcome to this Friday's VTNS Fan Freebie!

Have you ever seen a beautiful piece of Cluny lace?
Cluny lace has long pointed tallies called wheat ears and is a geometric style of bobbin lace.
With today's freebie you can get the same look without twisting lengths of thread on a bobbin. Instead there's a technique called Petal or Cluny Tatting that can give you the same effect.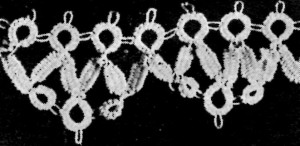 The work is done with a shuttle and ball. It's not easy, but by taking a look at the tutorial links below and practice, you can probably come up with a pretty Petal Tatting edge.
There are many places on the internet with tutorials on Petal or Cluny tatting. Here are a few:
Tatting a Cluny Leaf A YouTube video by tatmantats
Tatting Cluny Leaves by Hand A Needle Tatter's Version
Hanging Cluny Leaf Flower Pattern and process by Tim TenClay
Also, in my research on Cluny Tatting, I found a super website by Georgia Seitz aka AKTATTER called Hanging the Cluny. She has a great page of information and links for making this pretty lace.
Here's the pattern included in Aunt Ellen's How-To Book on Needlework published in 1954.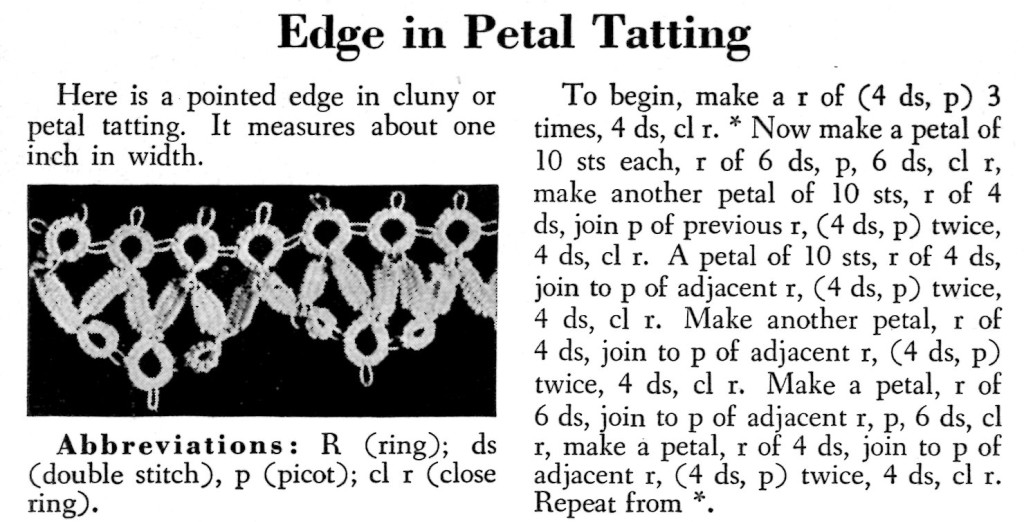 To print the pattern  or any other photo on the post, click on it, it will open in a new window, go to file, print and you'll have a printed copy of the page.
Also at the bottom of the post there is a green Print Friendly button that will give you several options to print and save.
Find more about Tatting and how to do it in this previous post, Tatting Instructions.
Please share your favorite needlework hints, tips and projects in the comments below or with us on Facebook.
Enjoy!
This post contains affiliate links. For more information, please see my disclosure policy.