One of our very own VTNS (Vintage Textile and Needlework Sellers) members has designed a pretty dish cloth knitting pattern with a Shamrock for St. Patrick's Day.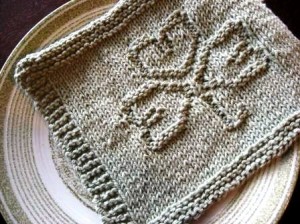 An easy to do Shamrock dish cloth just in time for St. Patrick's day.  The design emerges as the rows are knitted and purled.  It looks intimidating with 47 rows but you will soon see the pattern and catch on pretty quick.  This would make a nice hostess gift at a St. Patrick's day party! 
Long a symbol of Ireland, the Shamrock was thought to have magical powers with the number 3 considered a lucky number.  St. Patrick used the Shamrock to symbolize the Trinity.  According to legend, a shamrock's leaves will stand upright in a storm and snakes will avoid them.
This dish cloth was made from Sugar and Cream cotton yarn, but any brand of cotton yarn medium weight will work.  Approximately just over an ounce of yarn was used.  Since it's a cotton yarn, it will shrink in the dryer.  It is rated beginner and measures 10 x 7 inches. Enjoy this pattern!  It is free for your personal use and to make to give as a gift, but please do not copy the design or pattern to sell.
The pattern is in pdf format so to download it you'll need the Adobe Reader software on your computer. Most computers come with it, but it is free and can be found here.
Download Instructions: Right-Click the link below and select either "save target as" or "save link as" depending on what browser you are using.
You can find the full pattern pdf here:
Shamrock Dish Cloth Knitting Pattern