Welcome to VTNS (Vintage Textile and Needlework Sellers) Fan Freebie Friday!
This filet crochet tea table cloth pattern was in a 1925 Star Needlework Journal magazine by the American Thread Co. It's a beautiful floral cloth for a small table.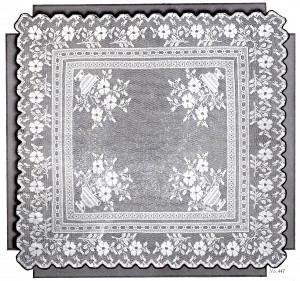 I can just picture the Victorian ladies sitting around the table covered with this pretty handmade cloth having tea in the afternoon.
This is the diagram for the flower baskets in the corners.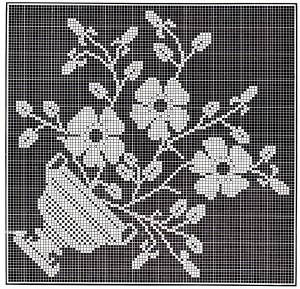 and this diagram is the floral border.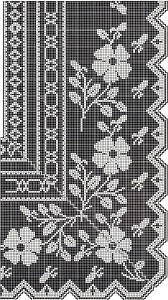 The PDF file below includes three pages of the diagrams and the instructions.
Filet Crochet Pattern Tea Table Cloth
These patterns are in PDF format so to download it you'll need the Adobe Reader software on your computer. Most computers come with it, but it is free and can be found here.
Download Instructions: Right-Click the link and select either "save target as" or "save link as" depending on what browser you are using or simply click on it and save or print.
Here's another post that has a Filet Crochet pattern for a Linen Tray Cloth or Placemat and if you'd like to learn more about Filet Crochet visit this post, Exploring Filet Crochet.
If you like this page, be sure to share it with your friends and like our Facebook Fan Page. We post a new vintage pattern every Friday.
Please share your favorite type of needlework, hints, tips and projects in the comments below or with us on Facebook
Enjoy!