Welcome to this Friday's VTNS (Vintage Textile and Needlework Sellers) Fan Freebie. Our Facebook Fanpage is adding new fans every day so drop by and "like"  us so you don't miss even one of these freebies.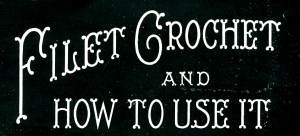 I've crocheted but never done Filet Crochet before. The vintage pieces I've seen look beautiful, but I thought not that easy to do.  I decided my first step was some research. I've found some great internet sites to share a little later in the blog post that make it simple.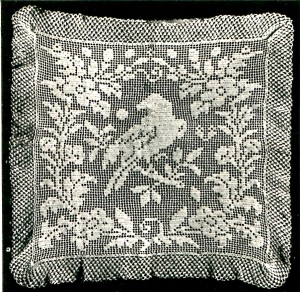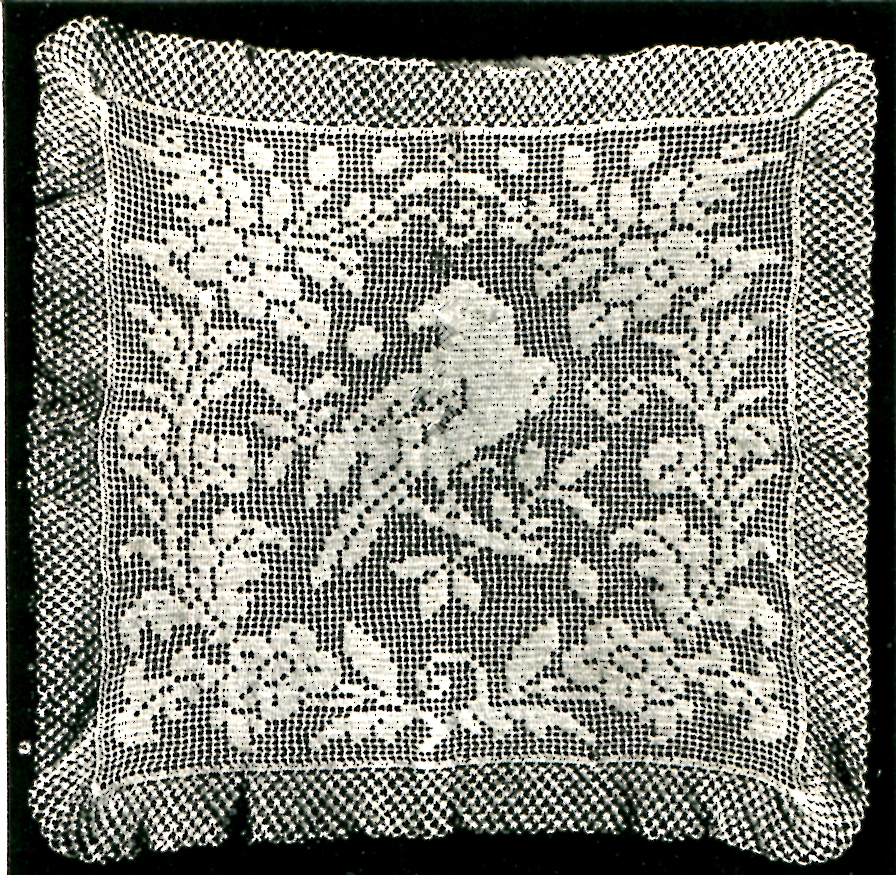 To start, Filet crochet is usually constructed from crochet thread made of Mercerized cotton in white or ecru, and worked in rows, but yarns can also be used. It makes a pretty decorative trim like a lace on window curtains, tablecloths, pillows and place settings such as coasters and place mats.
The crochet is worked from a graph or diagram. The patterns are created by solid and open meshes and only two stitches are used, the chain stitch and the double crochet stitch.
I'm sharing the General Directions that are included in the leaflet the vintage pattern you can download below is from, Filet Crochet and How To Use It by Augusta Pfeuffer. She authored and designed many crochet leaflets during the early 1900s.
This is what she says about filet crochet:
Filet crochet is the simplest form of crochet, no extra instructions for each piece are given; therefore the publisher has furnished block patterns of each design, thinking it the easiest way to copy.
The simple rule to follow is: In starting a piece, get the correct number of chain stitches by counting your meshes, multiply by three, and chain five extra stitches for your turn. Taking as an example: Chain 24 stitches, make five extra chain stitches for your turn and in the 8th chain stitch work on double, chain 2 again, skip 2 chain stitches, work on double in next chain stitch, and so on all the way up for the open meshes. (This forms the foundation of all filet crochet.) For one closed mesh, work four doubles and add 3 doubles for each additional closed mesh. If lace or piece widens, add necessary chain stitches required, according to rule given.
Filet crochet is always more attractive when made with a good fine thread. The finished work, also the linen, should be shrunk before putting the crochet in the material.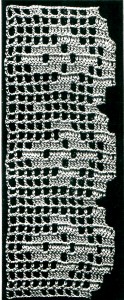 Okay I found that a bit confusing so I looked around the internet and found this site on About.com that  gives some good basics you'll need.
Also on About.com is this information, How to Figure the Starting (Foundation) Chain for Filet Crochet.
Here's another great basic filet crochet tutorial with pictures!
One more site, that I was really happy to come across, is software that

lets you make your own designs. How cool is that? I didn't even know it existed, so glad I looked.
I feel it's reasonably priced for what it does and there's even an opportunity to sell your own designs. Just check in the Designers section of the website.
The site where this software can be found is Crochetdesigns.com by Janet Casarez. She programs Flight Support software for NASA, but her first love is crocheting. She put the two together and came up with this super program.
I hope this gets you started on a journey with Filet Crochet. So many vintage linens have this embellishment, it would be great to know how it's done and create a few of our own today. If you do, be sure to give us a peek on the VTNS Fanpage, we'd love to see your work.
Here is your free Filet Crochet Pattern:
Filet Crochet Pattern Flower Luncheon Cloth with Napkin to Match
The pattern is in PDF format so to download it you'll need the Adobe Reader software on your computer. Most computers come with it, but it is free and can be found here.
Download Instructions: Right-Click the link and select either "save target as" or "save link as" depending on what browser you are using or simply click on it and save or print.
Enjoy!