Welcome to this Friday's VTNS Fan Freebie!
I hope you're feeling some cool weather in your neck of the woods. Today's crochet freebie incorporates leaves and a headband.
This pattern could be crocheted as a gift or use the crocheted leaves all by themselves for fall decoration around your home. Either way, it's a quick, easy and fun vintage crochet pattern.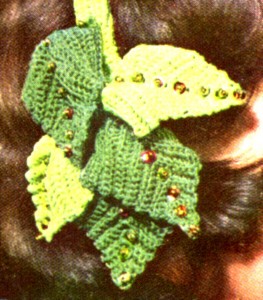 The pattern booklet calls this a Clip-on Hat, but to me it's really a decorated headband. I believe the plastic head clip they refer to in the directions, is a plastic head band you'd find in the hair accessories aisle in any department or drug store.
The suggested color for the leaves, of course, is green, but you could use any color of the Coats & Clark Knit Cro Sheen crochet cotton.
Beads and sequins embellish the leaves, but there's no limit to the different embellishments you could use to enhance the crocheted leaves.
The full crochet pattern instructions are below, but I've also included them as a PDF file to download at the end of this post.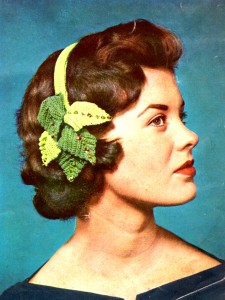 Clip-on Hat Vintage Crochet Pattern
J & P Coats Knit-Cro-Sheen A64:
1 ball each of No. 49 Chartreuse Green and No. 110 Designer Green
Steel Crochet Hook No. 7
A plastic head clip…..Sequins and beads…..Millinery wire.
HEADBAND . . . Make a chain slightly longer than plastic clip.
1st row: Sc in 2nd ch from hook and in each ch across. Ch l, turn.
2nd row: Sc in each sc across.
Repeat 2nd row until piece is wide enough to cover clip. Break off.
Sew band neatly to clip.
LEAVES (Make 4 of each color) . . . Ch 2.
1st row: Make 3 sc in 2nd ch from hook. Ch 1, turn.
2nd row: Hereafter pick up back loop of each sc. Sc in first sc, 3 sc in next sc, sc in next sc. Ch l, turn.
3rd to 14th rows incl: Sc in each sc across, making 3 sc in center sc of 3-sc group. Ch l, turn.
At end of 14th row, ch 2, turn.
15th row: Half dc in each sc. Decreasing 4 sts evenly spaced – to dec 1 half dc, work off 2 half dc as 1 half dc.
Ch 2, turn.
16th row: Repeat 15th row. Break off.
Sew millinery wire to leaves. Group 5 leaves for one side, 3 leaves for other side.
Sew Leaves to Headband. Trim as desired with sequins and beads.
Abbreviations:
ch…………………chain
sc………………….single crochet
dc…………………double crochet
sts…………………stitches
dec……………….decrease
If you'd like to save this vintage pattern as PDF file, you can download it below:
Clip-on Hat Vintage Crochet Pattern
The pattern is in PDF format so to download it you'll need the Adobe Reader software on your computer. Most computers come with it, but it is free and can be found here.
Download Instructions: Right-Click the link and select either "save target as" or "save link as" depending on what browser you are using or simply click on it, it will open in another window then save or print.
Enjoy!