Welcome to this Friday's VTNS Fan Freebie!
The pattern today is from a 1916 Bear Brand Blue Book of Worsted Work the Fourteenth Volume. The knitting pattern texture is great and it has tassels at both ends.

Bear Brand Shetland Floss is used in blue and sand. Since this yarn is no longer available, the best I can figure is it was a 100% wool, lightweight two-ply yarn, like a lace or baby/fingering weight that's used to make summer sweaters, women's dresses, scarfs and children's knit wear. Since it's a pillow, if it's going to be used and not just as decoration, you might want to use an acrylic, washable yarn.
This neck pillow uses a bolster pillow form that is 22 inches by 8 inches. I found one that is 20 inches by 8 inches you may be able to use that costs less. As with many antique knitting patterns, no gauge is given so you're kind of on your own figuring out the best size.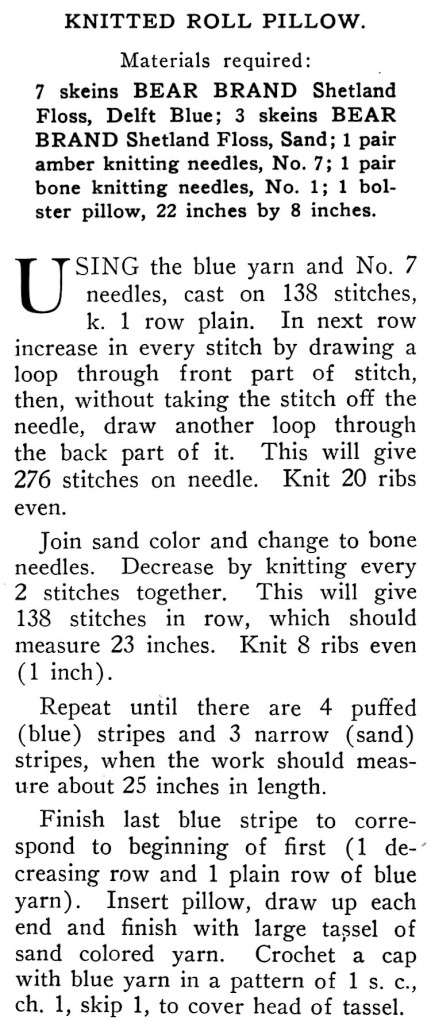 You can save or print this pattern by clicking on the image above, it will open in a new window and then you can use your computer's settings to save or print it or use the green Print Friendly button at the bottom of the post.
If you like this page, be sure to share it with your friends and like our Facebook Fanpage so you can get updates every time we post new patterns. Please share your favorite needlework hints, tips and projects in the comments below or with us on Facebook.
Enjoy!
This post contains affiliate links. For more information, please see my disclosure policy.