Welcome to this Friday's VTNS Fan Freebie!
Another great pattern from the Home Needlework Magazine published in June 1914. This time, in keeping with a theme of gift giving, a knitted border for an oval doily. If you have a vintage linen doily or fabric in your collection, this knitted border pattern added in white or a color would make a special gift.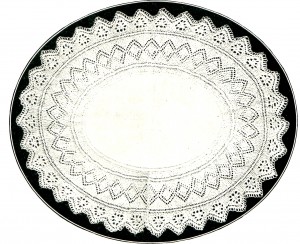 The type of yarn or thread used is not stated, so it would depend on the look you are going for. From the picture, it would be a dainty, thin yarn or thread.
The directions say, "Cut from linen an oval, nine and three-fourths inches in length, and six and one-half inches in width. Buttonhole the edge and sew on lace, fulling sufficiently to make it lie smooth."
These directions call the knitted border "lace" and it certainly does look like it.
If you've made a gift for Mother's Day that you'd like to share, please be sure to stop by our VTNS Fanpage and post a picture, we'd love to see it.
Oval Doily with Knitted Border Pattern
The pattern is in PDF format so to download it you'll need the Adobe Reader software on your computer. Most computers come with it, but it is free and can be found here.
Download Instructions: Right-Click the link and select either "save target as" or "save link as" depending on what browser you are using or simply click on it and save or print.
Enjoy!