Welcome to this Friday's VTNS Fan Freebie!
This is the last week of August. Summer is sailing away and along that same line we are sharing a 1930 quilt pattern called the Sail Boat Block from McKim Studios. Ruby McKim was a talented quilt designer during this era and her designs are still sought after by quilters today.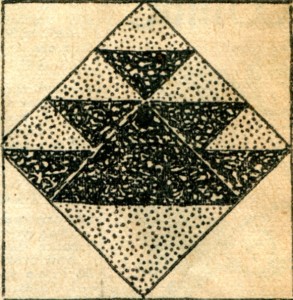 Rather than a more intricate patterned block, this one is simple and can be easily pieced together. This would be a sweet quilt for a little boy or a covering for a beautiful brass bed at a cabin by the lake.
This design uses all triangles. Making triangles can be intimidating to math challenged people such as myself, but I've found a couple places on the internet that will help you out with these quilt pieces.
From the website Patchwork-and-Quilting.com there are two articles I found helpful in making half-square triangles:
How To Make Grid Pieced Half Square Triangle Units
Calculating the Cutting Size of Quick Pieced Half Square Triangles
If you find it easier to watch someone do this rather than read how to do it, here's a short video explaining How to Make Half Square Triangles that shows you how to create and sew a basic half-square triangle unit. There's a short sponsored ad at the beginning.
We've shared other Kansas City Star quilt patterns before on this blog, you can find them here or click on the "Quilting" category on the right hand side.
If you have any quilting you've done that you'd like to share, please be sure to hop on over to our VTNS Fanpage, we'd love to see your work.
Here is your free Sail Boat Quilt Pattern made with triangles:
The pattern is in PDF format so to download it you'll need the Adobe Reader software on your computer. Most computers come with it, but it is free and can be found here.
Download Instructions: Right-Click the link and select either "save target as" or "save link as" depending on what browser you are using or simply click on it and save or print.
Enjoy!
This post contains affiliate links. For more information, please see my disclosure policy.