Welcome to VTNS Fan Freebie Friday! These slippers and espadrilles will be a fine addition to pack for your upcoming summer travels.
The patterns today come from a 1940s sewing book that was found in many women's homes during this era. Called an Encyclopedia of Modern Sewing it does cover almost every aspect you would need to learn the craft. Along with the many teaching tools in this book are patterns for sewing.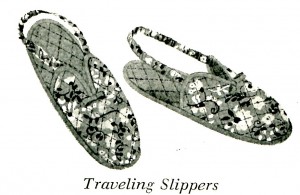 The two we've chosen today are for slippers and ribbon espadrilles. The patterns are on a 1 inch grid and will need to be enlarged. We've included instructions from the book for doing that. Also there are a couple illustrations in the book that the patterns point to that are included below.
Traveling Slippers Pattern and Instructions
Espadrilles Pattern and Instructions
You'll notice that these patterns and instructions refer to several illustrated figures on the book. You can find them here:
How to Enlarge a Pattern, Turn and Whip Stitch
On these pages is a great illustrated tutorial on Bias Strips:
Slippers Figures 48 to 54 Bias Strips
The patterns are in pdf format so to download it you'll need the Adobe Reader software on your computer. Most computers come with it, but it is free and can be found here.
Download Instructions: Right-Click the link below and select either "save target as" or "save link as" depending on what browser you are using or simply click on it and save or print.
Enjoy!