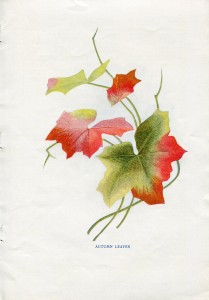 For those of you that like to embroider, I found this beautiful autumn leaves pattern in my collection. It's in a Ladies Fancywork Magazine from 1903. The year long subscription cost 50 cents.
The black and white detailed drawing can be downloaded here: Autumn Leaves Embroidery pattern
They've used the motif to embellish a round linen center piece. This is done with silk thread and the  Diagram of Shades from Richardson's Silks is outdated so you'll have to coordinate the colors in the image to the detailed diagram.