Welcome to this Friday's VTNS Fan Freebie!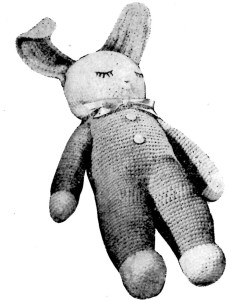 Here's a cute Sleeping Bunny Doll crochet pattern from Lily Crochet Design Book 63, Fair, Bazaar and Gift Crocheting dated 1952. Maybe someone out there was given this homemade crocheted bunny for a gift when they were a child.
This little bunny requires a vintage yarn called NYLKARA. It came in two ounce skeins from the Lily Mills Company. A good substitute would be a sock yarn with nylon.

It's made up of 50% Nylon and 50% Vicara.  I had no idea what Vicara was so I did a little research.
I found this one page article, Vicara A New Textile Fiber by John H. Karrh from a 1950 digest that explains what it is. The last sentence states:  A great future can be forecast for corn's glamorous by-product: Vicara.

To the right is a newspaper article that explains even more about the fiber from The Spokesman Review Jan 14 1953.
And last take a look at this ad in a 1952 LIFE magazine about the new fiber. It offers some great photos of the clothing style in America in the 1950's:
Now you will enjoy the glorious comfort….soft, rich beauty…and carefree wear of VICARA the new luxury fiber.
Here's the pattern. I also scanned it as a PDF file you'll find below. It requires two pearl buttons, but if you're giving it to a small child, I'd suggest finding a safer substitute for those or just leave them off entirely: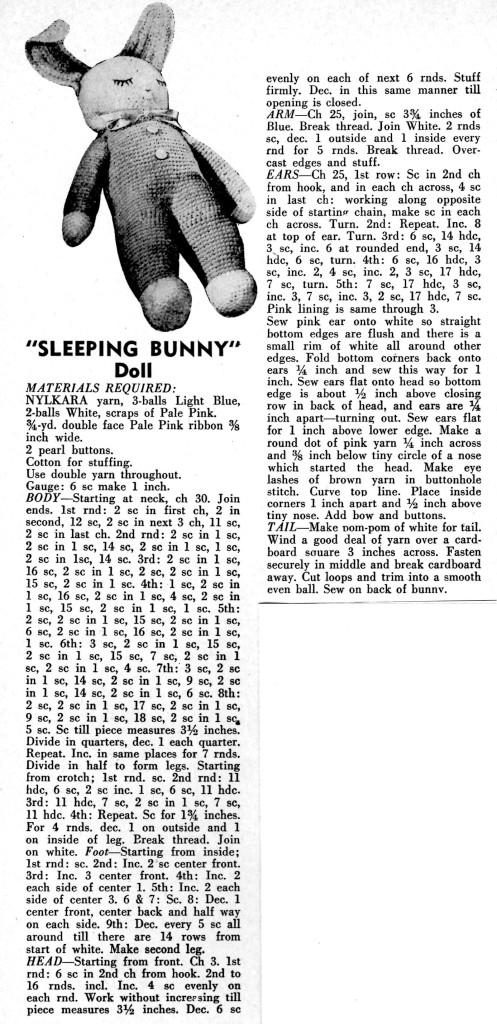 Sleeping Bunny Doll Crochet Pattern PDF
The pattern is in PDF format so to read it you'll need the Adobe Reader software on your computer. Most computers come with it, but it is free and can be found here.
Download Instructions: Right-Click the link and select either "save target as" or "save link as" depending on what browser you are using or simply click on it and save or print.
If you like this page, be sure to share it with your friends and like our Facebook Fanpage so you can get updates every time we post new patterns. Please share your favorite needlework hints, tips and projects in the comments below or with us on Facebook.
Enjoy!
This post contains affiliate links. For more information, please see my disclosure policy.