Welcome to this Friday's VTNS Fan Freebie!
Hairpin lace was actually started in Victorian times by women using the prongs of their hairpins for this craft.
The pattern for this open and airy hairpin lace shawl, perfect for a summer evening, was published in a vintage 1950's booklet called Stoles and Shrugs.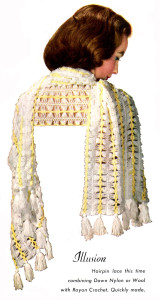 Without the tassels it measures 20 x 70 inches. In the materials list fine Dawn Baby or Fingering Yarn is used but it is discontinued. A substitute would be this Lion Brand Sock Ease Yarn that comes in many different colors.
In the 1953 instructions a Hairpin Staple is called for and this tool looks exactly like a large staple with long sides, an upside down U.
Many of the newer tutorials online use an adjustable loom similar to this Boye Hairpin Lace Kit or this Susan Bates Adjustable Aluminum Hairpin Lace Loom. These looms allow you to easily slide off your work.
Below is a close up of the beautiful lace this pattern makes.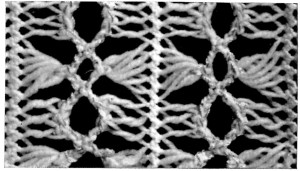 I did another post for a lamp shade cover pattern in hairpin lace. It includes instructions on How to Make Basic Hairpin Lace .
This is the full vintage Hairpin Lace Illusion Shawl pattern. I've also included it as a PDF file below.

You can save or print by clicking on the image above, it opens in another window, then print or save, which is usually under "file" in your browser or you can right click on the image for a drop down menu of options to copy or save.
Or I've made a PDF file available here:
Hairpin Lace Illusion Shawl Instructions
The pattern is in PDF format so to download it you'll need the Adobe Reader software on your computer. Most computers come with it, but it is free and can be found here. There are also free Adobe Reader Apps for mobile devices.
Download Instructions: Right-Click the link and select either "save target as" or "save link as" depending on what browser you are using or simply click on it and save or print.
If you like this page, be sure to share it with your friends and like our Facebook Fanpage so you can get updates every time we post new patterns.
Enjoy!
This post contains affiliate links. For more information, please see my disclosure policy.