Welcome to this Friday's VTNS Facebook Fan Freebie!
Today's pattern is a cute and cuddly Scottie Dog done in a textured crocheted Puff Stitch that can be used as a Hot Pot Holder or Toy in the Nursery.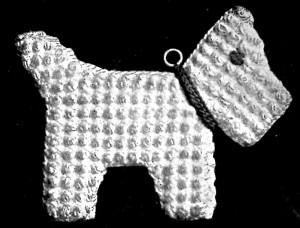 I've lost the cover to this booklet so I'm not sure of the age of the crochet pattern, but I'm guessing the 1940s.
The Puff Stitch looks like a lot of fun to do and gives your crocheted items great texture. I haven't tried it yet, but found a 2½ minute video clip Tutorial on Crocheted Puff Stitch on eHow that may help you out with it. (You can skip the ad 5 seconds in)
The explanation for a Puff Stitch in today's Scottie Dog Hot Pot Holder pattern instructions are as follows:
Starting at feet, with yarn ch 8, 7 sc on chain.
ROW 2: Ch 1, turn, sc in last sc, * 2 dc in next sc, holding final loop of each dc on hook, thread over and pull through all three loops at once. (1 Puff Stitch (PS) made), sc in next sc (pull it down tight, to let the ps puff out on back of work) which will be the right side. Repeat from * across (3 Ps).

I found these simple step-by-step instructions for the Puff Stitch on eHow:
Yarn Over.
Put your hook through the desired base stitch.
Yarn over.
Pull the hook back through the base stitch. You should now have 3 loops on your hook. (Pattern above stops at 3 loops)
Repeat steps one through four twice more. You should end up with 7 loops on your hook.
Yarn over.
Pull the last yarn over through all 7 loops on your hook. This is technically the end of the puff stitch.
Make a single crochet stitch to finish off the puff stitch if you desire. Some patterns call for this added step, some don't.
You'll need at least a one hundred yards of yarn for the holders and a No. 1 Crochet Hook.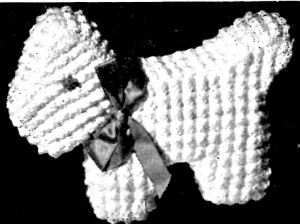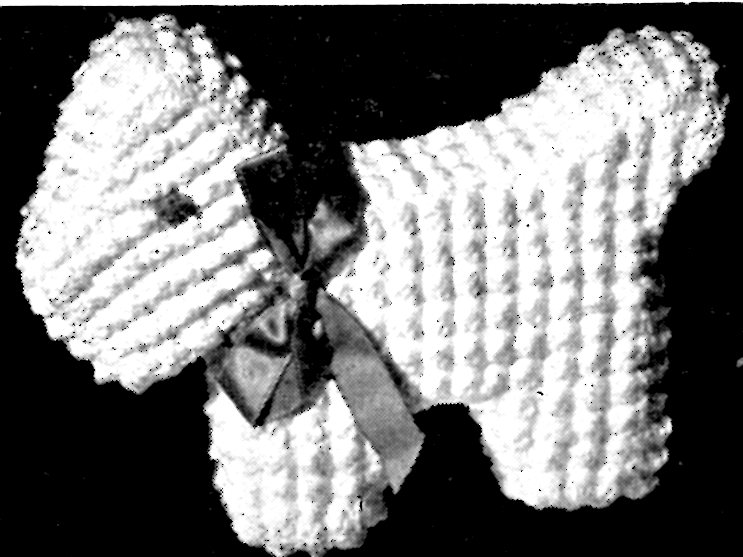 The Sleepy Time Toy for the Nursery requires 60 to 75 yards. You simply make two pot holders and an inset piece is crocheted to be placed between the sides. This will give it depth and room for stuffing.
Here's the PDF file to download for later:
 Vintage Crochet Pattern Scottie in Puff Stitch
You'll need the Adobe Reader software on your computer. Most computers come with it, but it is free and can be found here.
Download Instructions: Right-Click the link and select either "save target as" or "save link as" depending on what browser you are using or simply click on it and save or print.
Enjoy!