Welcome to VTNS (Vintage Textile and Needlework Sellers) Fan Freebie Friday!
I hope all of your shopping is done and the packages are wrapped so you can sit back, relax and enjoy the holiday season. Wishful thinking for me!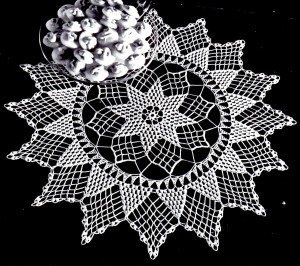 Although this vintage doily pattern is ambitious I just had to share it. The title of this crochet doily pattern is Star of Hope which I felt was perfect for this time of year. It may not be done in time for this year's festivities but save it for next year.
I saw several other vintage crochet patterns named Star of Hope, but I didn't see one exactly like this.
This doily is an impressive 14½ inches in diameter with a wonderful star shape made with crochet clusters and chain-loops.
Mercerized Crochet Cotton in Size 30 is used with a No. 10 crochet hook. The pattern is done in white or off-white, but any color you choose would do.
Star of Hope Doily Vintage Crochet Pattern
The pattern is in PDF format so to download it you'll need the Adobe Reader software on your computer. Most computers come with it, but it is free and can be found here.
Download Instructions: Right-Click the link and select either "save target as" or "save link as" depending on what browser you are using or simply click on it and save or print.
Enjoy!