Welcome to this Friday's VTNS Fan Freebie!
I found an instruction for how to make a paper parasol in an old 1950's Things to Make booklet.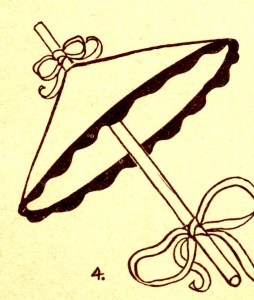 It describes a super easy, fun way to make these little parasols. These could be used as party favors, favors for wedding showers, decorations for cakes or cupcakes or to put in your favorite dinner time drink.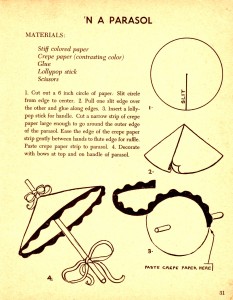 This would be a fun project to do with a child, but you could certainly take it a step further and adhere some fabric to the stiff paper or use lace rather than crepe paper on the edges. Instead of lollypop sticks, wooden skewers you find in the grocery store could be used.
I found a couple videos on YouTube about making miniature parasols you might enjoy.
The first is a fun tutorial on How to Make a Gorgeous Parasol. Simple but gorgeous using trims and lace. Doll clothing makers will love this one. This umbrella would be a perfect compliment to a doll outfit. It's long, 25 minutes, but I think once you see the end product you'll find it's worth the time.
This next one is How To Make Easy Drink Umbrellas For Your Party. She uses a 3 inch circle paper punch with or without a scalloped edge. You can create these to go along with the theme of your party.
Kids Crafts – How to Make a Paper Umbrella shows the best way to do this craft with kids and uses just about exactly the same directions as above. She uses pinking shears to cut out the circles which gives it a nice zig-zag pattern on the edge.
If you'd like the paper parasol instructions as a PDF to save later, the link is below.
How to Make a Paper Parasol Favor PDF
The pattern is in PDF format so to download it you'll need the Adobe Reader software on your computer. Most computers come with it, but it is free and can be found here.
Download Instructions: Right-Click the link and select either "save target as" or "save link as" depending on what browser you are using or simply click on it and save or print.
Enjoy!