Welcome to this Friday's VTNS Fan Freebie!
Who doesn't love lace? Lace of all kinds, shapes and colors. Today I'm featuring an article from a 1914 Home Needlework Magazine about Bohemian Lace and how it's made. This article features using a narrow braid and thread that produces a light and airy lace.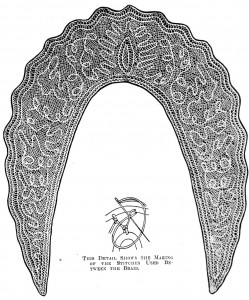 The magazine sold patterns to follow to make this pretty lace. Of course, the pattern is no longer available, but the article gives you a great idea of how to make this lace and below I've linked to several sites that will take you on an fun lace journey.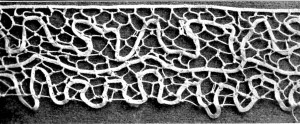 The bobbin braid used in the article almost looks like our modern day ric-rac and could probably be used with a favorite thread to make this lace. It would be fun to experiment.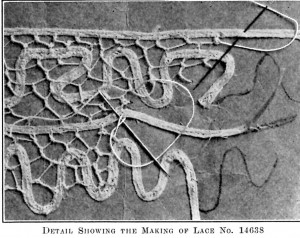 I'm not an expert on lace, and since this picture is shown using needles and thread, I'm going to say this is a Needle or Needlepoint Lace so I've included some links having to do with that. I've also included some great links about Bobbin Lace.
On the blog Textile Dreams you'll find a 9 step tutorial on making Needlepoint Lace. From creating the pattern to finishing the piece.
You have to check out Wikipedia's definition of Needle Lace.
The Lace Fairy has a great reference to identify different types of Needlelace.
We're almost finished with links on lace, but this post wouldn't be complete without a couple of links to Bobbin Lace.
On Wikimedia Commons: Bobbin Lace there is a wonderful variety of pictures of different laces from around the world.
Marla Mallett has A Personal Collection of Antique Bobbin Lace she shares on this link. Just beautiful photographs with descriptions of all types of antique Bobbin Lace.
And last but certainly not least, a link to a lace project at aboutGoodness.com. She shows you how to make a Unique Bohemian Curtain From Repurposed Vintage Lace. Wait until you see it, just gorgeous!
So I know this is only the tip of the iceberg on lace, but it's a great start from a little article in an early 20th century magazine.
The 2 page article is in PDF format so to download it you'll need the Adobe Reader software on your computer. Most computers come with it, but it is free and can be found here.
Download Instructions: Right-Click the link and select either "save target as" or "save link as" depending on what browser you are using or simply click on it and save or print.
Enjoy!