Welcome to today's VTNS Fan Freebie Friday. We now have over 200 fans! Join us on Facebook at VTNS Vintage Textile and Needlework Sellers fan page.
June is not only the month for Father's Day, but for many weddings. This adaptation of the traditional wedding ring quilt pattern is called, Wedding Ring Tile from the booklet Bold and Beautiful Quilts.
Each octagonal block measures about 18 inches across. Thirty blocks are set 5 across and 6 vertically making the quilt about 96 x 114 inches that includes the 3 inch border. Of course, it can be made smaller by reducing the number of blocks used.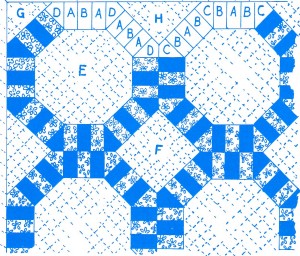 As you can see from the illustration, each ring consists of two different fabrics one solid and one print. The pattern calls for white as the fill in fabric used for E, F and G.
Here's the instruction page and templates:
Wedding Ring Quilt Pattern PDF
To download the PDF file you'll need Adobe Acrobat Reader on your computer. Most computers come with it, but if you don't have it you can find it here.
Download Instructions: Right-Click the link and select either "save target as" or "save link as" depending on what browser you are using or simply click on it and save or print.
Enjoy!