Welcome to the VTNS Fan Freebie Friday pattern!
We have shared some great knitting patterns in the past, but what if you don't know how to knit. Today we're giving you the opportunity to learn.
From a 1940s Beginner's Manual we've put together 7 pages that will teach you with illustrations and patterns. Some of the patterns are the Cable Stitch, Basket Weave, Seed Stitch and a couple more.
There is a page on Abbreviations, Gauge, Materials, Winding Wool, Blocking and Washing your work.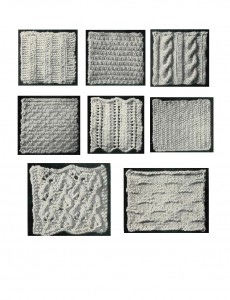 It starts out with the very first steps, How to Cast on Stitches, Casting on with More than One Needle.
To get you going the booklet goes over Plain Knitting or Garter Stitch, Binding Off, Purling, Stockinette Stitch and Ribbing.
When you run into difficulty the page of Beginner's Problems Solved will help: Joining Yarns, Marker, To Decrease or Narrow, To Increase, Picking Up Stitches, Around Neck and Armholes and Buttonholes.
The patterns can be used to make a large or small afghan. It just depends on the amount of stitches you cast on or if you'd like to make several smaller blocks of the patterns and sew them together.
You'll find all the instruction you need to get started in this little booklet.

Knitting Beginner Manual and Patterns
This booklet is in PDF format so to read it you'll need the Adobe Reader software on your computer. Most computers come with it, but it is free and can be found here.
Download Instructions: Right-Click the link and select either "save target as" or "save link as" depending on what browser you are using or simply click on it and save or print.

Enjoy!
[pinit]