Rain, Rain Go Away
Where I live summer time was welcomed in with a tropical storm that brought three days of rain that just didn't look like it was ever going to stop. Today there's still a tropical breeze but the sun peeked through for a little while this afternoon.
Summertime Towel Set
When I saw this crochet pattern for a Summertime Towel Set it made me smile and I chose it for today's freebie pattern.
Butterflies and Flowers
Butterflies and Flowers, you can't get much more summer time than that.
The towel's also have the prettiest purple crocheted edge.
This crochet pattern is from a Lily Mills Design Booklet titled Fair, Bazaar and Gift Crocheting.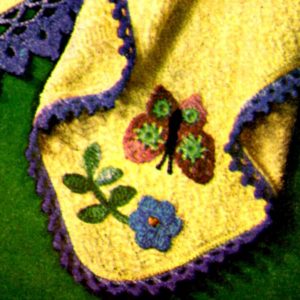 Two Lovely Designs
There are two lovely designs. One for a hand towel and the other a wash cloth. Plus a pretty edging for both.
Crochet Pattern PDF file for download:
The pattern is in PDF format so to read it you'll need the Adobe Reader software on your computer. Most computers come with it, but it is free and can be found here.
Download Instructions: Right-Click the link and select either "save target as" or "save link as" depending on what browser you are using or simply click on it and save or print.
If you like this page, be sure to share it with your friends and like our Facebook Fanpage so you can get updates every time we post new patterns.
Enjoy!
This post contains affiliate links. For more information, please see my disclosure policy.