Today's crochet bag pattern freebie could be an oxymoron. A Crocheted Knitting Bag. Many times those of us that crochet also knit. So this bag would make sense. Some like one craft more than the other. Which do you prefer? Or do you like both.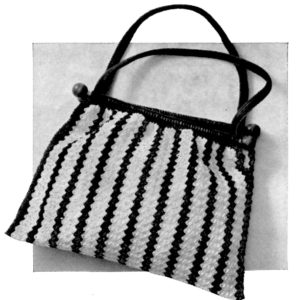 This pattern is from an American Thread Company Star Book titled Crocheted Fashions. The crocheted bag uses Heavy Crochet Mercerized Cotton in Forest Green and White.
Vintage Thread
This vintage thread is similar to a Size 5 crochet thread. The balls contained 100 yards. Use a No. 4 steel crochet hook, but since no gauge is given, you'll have to experiment. Knitting sticks or handles complete the top of the crochet bag.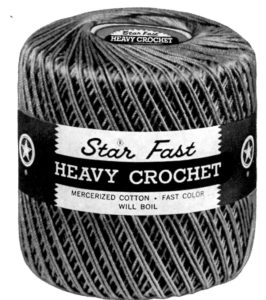 This is a picture of the American Thread Company "Star" Fast Heavy Crochet Mercerized Cotton from the booklet.

I did a search on Amazon and came up with DMC Petra Crochet Cotton Size 5. It looks similar.
Make sure to read the shipping times carefully on these threads. A couple of them I noticed say "usually ships in 1 to 3 months." I don't know about you, but I want my thread a lot sooner than that.
PDF File to Download
The full pattern and crochet abbreviations are in the one page PDF file below.
Crocheted Knitting Bag Pattern
To read the pattern you'll need Adobe Reader software on your computer. Most computers come with it, but it is free and can be found here.
Download Instructions: Right-Click the link and select either "save target as" or "save link as" depending on what browser you are using or simply click on it and save or print.
Are You On Facebook?
Visit our Facebook Fanpage where we share vintage textiles, needlework patterns and recipes.
Enjoy!
This post contains affiliate links. For more information, please see my disclosure policy.