I have the cutest little duck crochet pattern to share. Today we call them Amigurumi which means a crocheted or knitted stuffed toy.
Where does the name Amigurumi come from?
The word comes from the Japanese words ami, meaning crocheted or knitted, and nuigurumi, meaning stuffed doll. Most Amigurumi are animals but they can be people or just about any object that is crocheted or knitted and stuffed.
Perfect for the Easter Basket
This would be perfect for an Easter basket or a gift or decoration at a baby shower. The pattern is from an American Thread Star Book titled Aunt Lydia's Design Studio. The booklet doesn't have a date listed, but by the looks of the fashions it should be late 1960's, early 1970's. With a little investigating, I was right, the date is 1970.
Where to find Aunt Lydia's Rug Yarn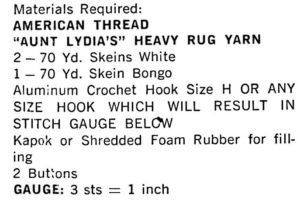 The yarn required for the duck crochet pattern is Aunt Lydia's Rug Yarn.  The yarn colors are White and Bongo (Tangerine Orange).
There are a few hundred listings for Aunt Lydia's Rug Yarn on ebay in a variety of colors. I even found a package of two Bongo 70 yard skeins.
There is plenty of Aunt Lydia's Rug Yarn on Amazon too.
The gauge of 3 sts = 1 inch is given in this crochet pattern so that helps. Two buttons are used for the eyes, but if it's a gift for a baby or toddler I'd substitute something that cannot be removed. Maybe use some black yarn sewn on in a circle for each eye.
PDF file is below:
This is a two page pattern with the photo of the finished duck.
Quite A Quacker Duck Amigurumi Vintage Crochet Pattern
The pattern is in PDF format so to read it you'll need the Adobe Reader software on your computer. Most computers come with it, but it is free and can be found here.
Download Instructions: Right-Click the link and select either "save target as" or "save link as" depending on what browser you are using or simply click on it and save or print.
If you like this page, be sure to share it with your friends and like our Facebook Fanpage so you can get updates every time we post new patterns.
Enjoy!
This post contains affiliate links. For more information, please see my disclosure policy.