Mittens Knitting Pattern
This vintage knitting pattern is for a toddler's pair of mittens. One using green yarn that says GO and one in red yarn that says STOP.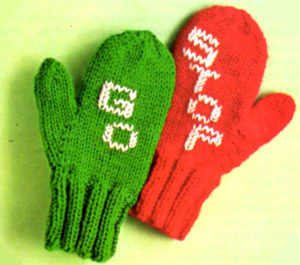 The kids will have fun outside using these mittens to play the game STOP and GO. One child holds up the green mitten and says GO, then the kids run around until the red mitten is held up for STOP. There will also be some yelling of stop and go involved. Besides it's a great way to teach the toddlers the words stop and go.
Use them in the car while you're running errands. When you come to a red light they can hold up the red mitten. When the light is green hold up the green.
Substitutes for Discontinued Yarns
These mittens use Brunswick Germantown Knitting Worsted 100% wool or Windrush which is 100% acrylic. The Germantown wool was a plied yarn. It had a weight of 100g and a length of 230 yards in each ball. If you want to use the wool, a good substitute is Patons Classic Wool Worsted. Since the Patons is in 100g/3.5oz skeins also, you'd need the same amount as the pattern calls for.
The Windrush was a plied, 100% Acrylic yarn that was machine washable and came in 100g balls as well. There are several good substitutes for this yarn: Bernat Worsted, Red Heart Baby Hugs Light, and Lion Brand Pound of Love. 
You'll need a set of double pointed needles No. 4. This should give you a Gauge of 6sts = 1″.
Mittens Pattern Instructions
The directions are for sizes 2-4 years. You'll need a tapestry needle and a small amount of white yarn to embroider the words on the mittens using a Duplicate Stitch.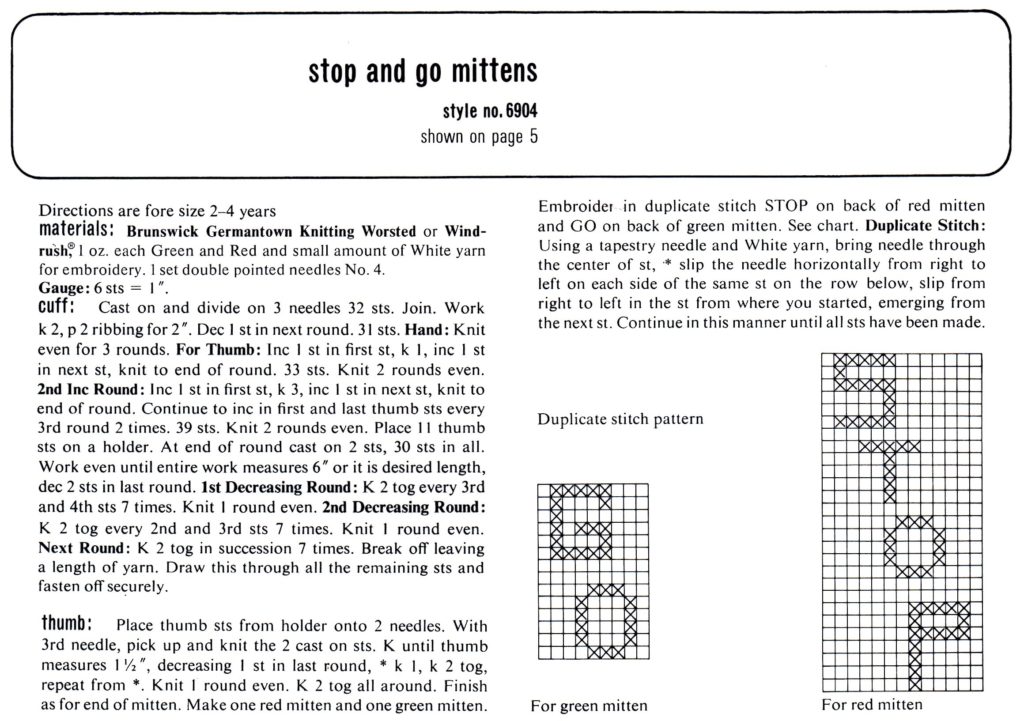 PDF File to Download
Below you'll find the one page PDF file to download for later:
Stop and Go Mittens Knitting Pattern PDF
The pattern is in PDF format so to read it you'll need the Adobe Reader software on your computer. Most computers come with it, but it is free and can be found here.
Download Instructions: Right-Click the link and select either "save target as" or "save link as" depending on what browser you are using or simply click on it and save or print.
If you like this post, be sure to share it with your friends and like our Facebook Page so you can get updates every time we post new patterns.
Enjoy!
This post may contain affiliate links. These affiliate links help support this site. For more information, please see my disclosure policy.