Welcome to this Friday's VTNS (Vintage Textile and Needlework Sellers) Fan Freebie!
Today's freebie includes instructions on shuttle tatting and eight pretty tatted edging patterns. Here's a sample of one of them.
They come from a 1944 American Thread Company booklet entitled Tatted & Crocheted Designs, Star Book 30. I enjoy reading the introductions to these vintage booklets. The one for this booklet is no exception:

Ageless beauty of lace for your home — a touch of frosted white, crisp as the first snow flake, can be yours for so little effort, so little time. A romantic luncheon set to show off your treasured china — like a lace ruff around an old-fashioned nose-gay. Fragile and feminine doilies. A baby cap that will make a cherub look like a Gainsborough miniature. [Gainsborough was a painter of miniatures in the 1700's.]

Tatting is a lovely art. The many exquisite designs in this book can be easily made.
Here's the pretty set of 8 tatted edgings you'll find pattern instructions for: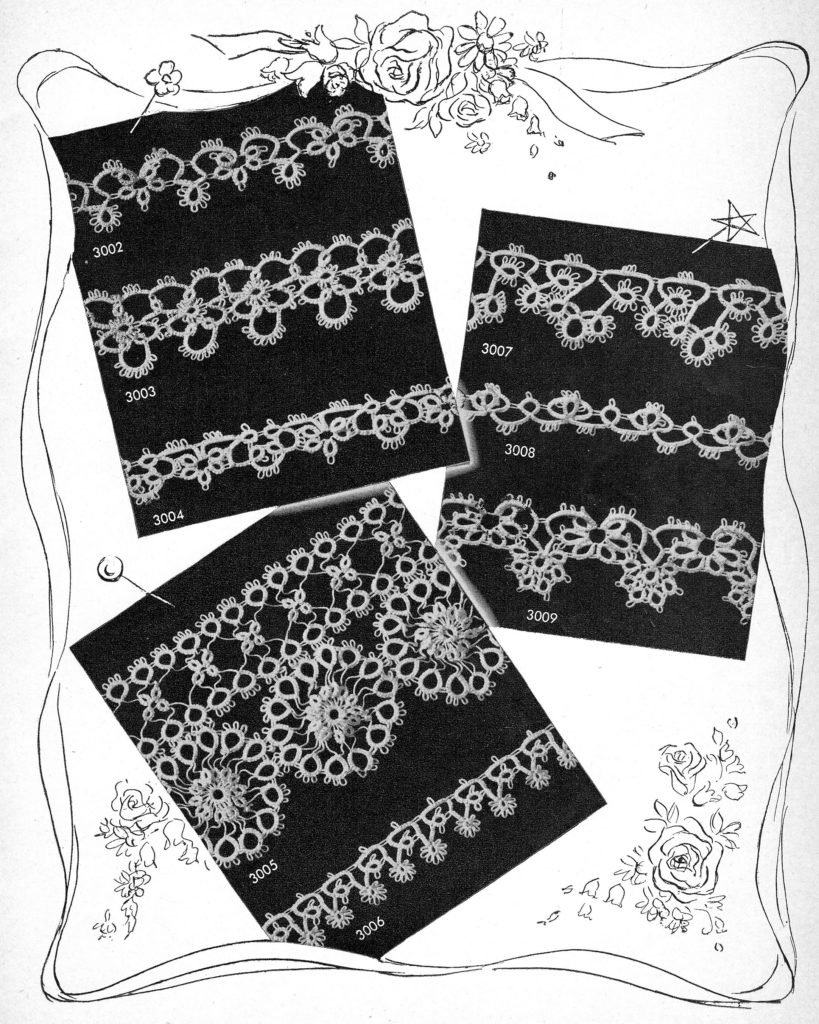 Tatting has it's very own category on the right side of this blog where you'll find more instructions and patterns in earlier posts.
This booklet offers a set of instructions for Shuttle Tatting:
The instructions and all 8 tatted edging patterns are in the 4 page PDF below:
Tatted Instructions and Edging Patterns PDF
The patterns are in PDF format so to read it you'll need the Adobe Reader software on your computer. Most computers come with it, but it is free and can be found here.
Download Instructions: Right-Click the link and select either "save target as" or "save link as" depending on what browser you are using or simply click on it and save or print.
If you like this page, be sure to share it with your friends and like our Facebook Fanpage so you can get updates every time we post new patterns.
Enjoy!
This post contains affiliate links. For more information, please see my disclosure policy.
Save
Save
Save