Welcome to this Friday's VTNS Fan Freebie!
Today's freebie is a hand crocheted clutch purse decorated with pearls and sea shells. This clutch bag is called Treasure Trove and is described as a beautiful clutch bag for the very dressiest occasions. Made of Dritz Radiant Straw, enhanced by Dritz Pearls and Sea Shells.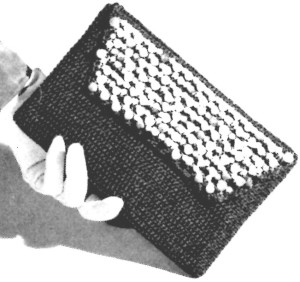 The pattern is from a Dritz instruction book of Hand Crochet Fashions copyright 1954. Dritz is still in business making many different items for sewing and crafts. I wasn't able to find the pearls or sea shells required for this pattern, but there's no shortage of great substitutes.  This search shows a variety of pearls and here is a great selection of sea shells.
You could substitute the sequins for the sea shells and make a dressy clutch to match your outfit for a New Year's Eve party. The types of sequins you could use are endless.
I couldn't find the Dritz Radiant Straw called for in this vintage pattern, but this purple Berwick Wraphia Pearlized Rayon Craft Ribbon is gorgeous and comes in different colors.
This is the Pearlized Rayon Craft Ribbon and with these sequins added to embellish the purse, you'd have quite a beautiful crocheted clutch.

Lame is used to string the pearls and shells. This product from BEADNOVA Elastic Stretch Polyester String Cord in Clear White looks like it'd do the trick.
I wasn't successful in finding a lining for the clutch, but this sewing tutorial from Make Something may be helpful. It has information on making a lined clutch with the sewing pattern included.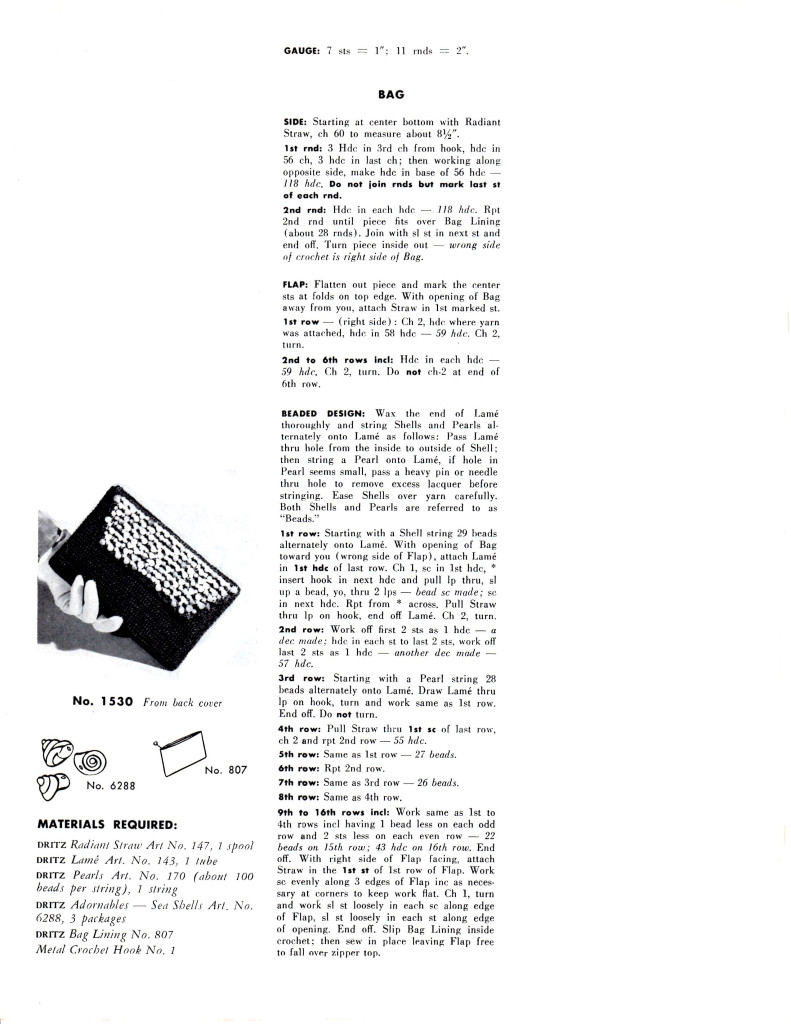 If you'd like to save this pattern for later, I've scanned as a PDF file below:
Treasure Trove Clutch Bag Crochet Pattern
The pattern is in PDF format so to read it you'll need the Adobe Reader software on your computer. Most computers come with it, but it is free and can be found here.
Download Instructions: Right-Click the link and select either "save target as" or "save link as" depending on what browser you are using or simply click on it and save or print.
In a previous post I shared a pretty crocheted vanity case pattern.
If you like this page, be sure to share it with your friends and like our Facebook Fanpage so you can get updates every time we post new patterns. Please share your favorite needlework hints, tips and projects in the comments below or with us on Facebook.
Enjoy!
This post contains affiliate links. For more information, please see my disclosure policy.