Today's free vintage crochet pattern is a pretty daisy placemat for Spring. It's from a 1950's Lily Mills booklet. The placemat measures 12 x 18 inches with daisies wrapped around a lace mesh middle. There are pretty scalloped edges too.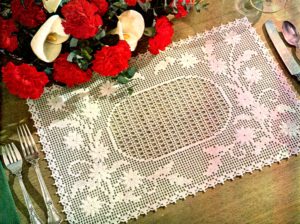 Materials required:
The listed choices of materials you can use are:
Daisy Mercerized Crochet Cotton, Art 65, White, Size 30 OR
Lily Mercerized Crochet Cotton, Art 36, White, Size 30 OR
Lily Mercerized Crochet Cotton, Art 161, White, Size 30
After working with vintage crochet patterns for years, I still have questions about what the Art number means on these types of vintage threads. I don't believe it's meant to be the color or the size of thread, but it may be a number assigned to signify the amount of thread in the ball or skein.
The closest I've come to an answer is it may have been the product name similar to "Classic" or "Cebelia" today. If anyone knows, please leave a comment on this post.
Because the threads required are no longer made, these two threads would be a fine substitute for the vintage ones listed above. Both are a Size 30 Mercerized Cotton:  Aunt Lydia's Extra Fine Crochet Cotton OR DMC Cebelia Crochet Cotton.
If you find the type of Crochet Cotton to use confusing, this post on the Red Heart Yarn website called the Ultimate Beginner's Guide to Thread Crochet will be helpful.
The crochet hook is size No. 13 and the Gauge is 6 sps = 1 inch; 6 rows = 1 inch. It always helps to have the gauge in these vintage crochet patterns.
Placemat Crochet Pattern Chart:
The circles on the chart indicate where the embossed daisies go.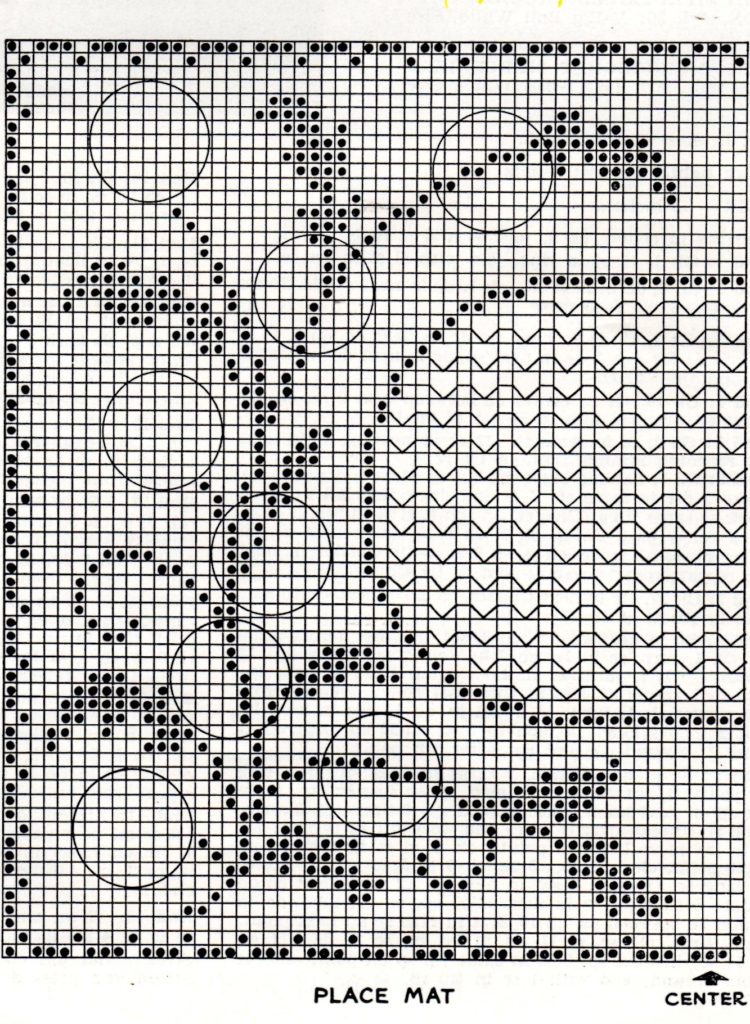 Since you may want to save this chart for later, you can click on it, it will open in a new window and there you can save or print it. There is a PDF file available for download below.
Abbreviations you'll need to know
ch = chain        dc = double crochet       rnd = round    sc = single crochet
hdc = half double crochet   sl st = slip stitch       lp = loop      sp(s) = space(s)
st = stitch  sk = skip   cluster dec = cluster decrease   yo = yarn over
* Repeat from asterisk (*) as many times as specified in instructions.
(  ) Repeat everything within parenthesis (  ) as many times as specified.
Instructions for the Embossed Daisy Placemat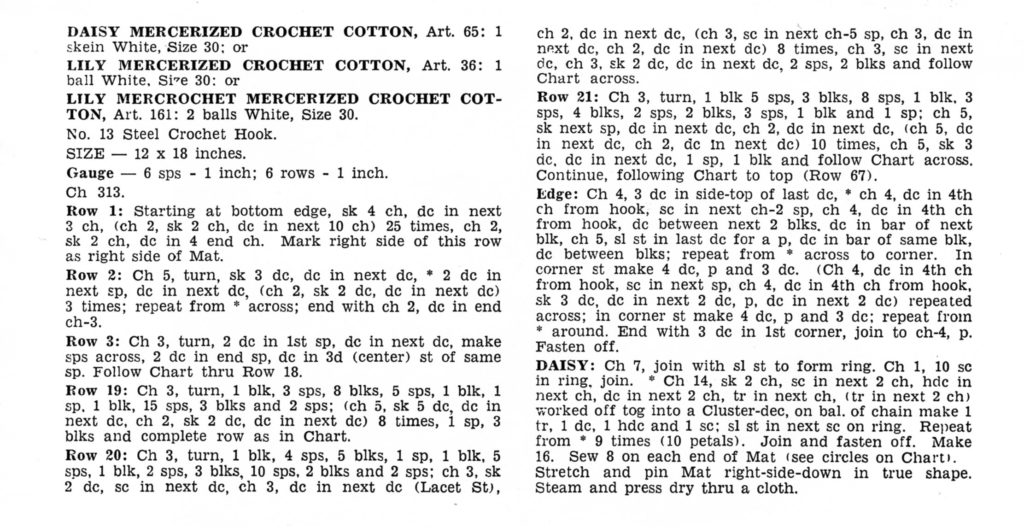 PDF file to download:
Here's the PDF file you can download for later. It's two pages.
Embossed Daisy Place Mat Crochet Pattern PDF
The pattern is in PDF format so to read it you'll need the Adobe Reader software on your computer. Most computers come with it, but it is free and can be found here.
Download Instructions: Right-Click the link and select either "save target as" or "save link as" depending on what browser you are using or simply click on it and save or print.
If you like this page, be sure to share it with your friends and like our Facebook Fanpage so you can get updates every time we post new patterns.
Enjoy!
This post contains affiliate links. For more information, please see my disclosure policy.