The embroidery sprigs found on this blog post are from the pattern book A Scholehouse for the Needle by Richard Shorleyker published in 1632, but I found these examples in a book titled Embroidery edited by Mrs. Archibald H. Christie and published in 1909.
Embroidery Book
It is "A collection of articles on subjects connected with the study of fine needlework, including stitches, materials, methods of work, and designing, and history, with numerous illustrations and coloured plates of modern work."
Here are more embroidery books written and edited by Mrs. Grace Christie.


The book I used I found on Archive.org. You can choose from several different download options. I usually download the PDF file. It's easy and fast, just remember where you save it so you can find it later. Most of the time I save mine to the desktop, then I move them to the proper file. Here's the link:  Embroidery.
Samplers and Pattern Books
When you study collections of samplers from a long time ago, you'll notice that they often have certain details in common. Such as a little cross stitch bird, baskets of fruit and flowers, borders and floral sprigs. That leads us to believe that the needleworkers of that time may have chosen elements for their designs from the same book of patterns.
Few of these pattern books survived in comparison to the great many that once existed, but it's not surprising, since they were greatly used, often pricked through the print of the pattern and pounced through perforations onto the material. This way of making tracings, and sometimes pages being ripped out, most certainly hurt the books, making editions very hard to find.
History of Lace
For more information on old pattern books, Mrs. Bury Palliser's History of Lace has an appendix with a long list of them with descriptive notes. You can find this book and many others at Archive.org.
There is a copy published in 1865 and also one that was published ten years later in 1875.  They are in several languages and cover the period of 1527 to 1784. Many of them concern lace, but some of the books have designs specially arranged for embroidery.
If you'd like a hard copy of History of Lace by Mrs. Bury Palliser, Dover
Publishing has a reproduced copy available on Amazon. I did find a couple originals for sale, but they were $94 and up.
A Scholehouse For The Needle
One English book, which has special interest for embroiderers is A Scholehouse for the Needle by Richard Shorleyker printed in London in 1632. It's a teaching book with patterns and examples with an emphasis on arranging your own designs.
For this reason even today this book is beneficial but hard to find. Doing a search for it, all I found were reproduced copies. Some of them costing hundreds of dollars. I didn't see any originals available. One reproduced book on Etsy was $32 and ships from the United Kingdom.
I found several images of individual book pages available here and there on the internet when I did a Google search for them.
Seventeenth Century Embroidery Patterns
It's interesting to see examples of seventeenth-century patterns. The sprigs are in rows in the book. You'll find many similar designs on the embroidered clothing of that time period.


In addition to using the patterns individually, you can build up the designs by arranging them in groups.
Here's an Example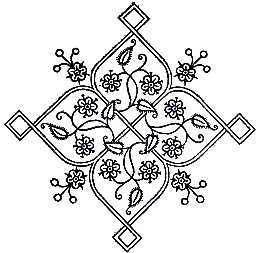 The figure to the right used the rose like spray, second to last on the first row of designs, its repeated four times. The main stem radiating outward. You'll find the detached sprig in the second row of designs at the end.
A frame surrounds it and shows how a design can develop into something new.
To print or save the images, click on them, they will open in a new window and there you can save or print them.
In addition to saving or printing them from this post, I've made a one sheet PDF file you can download below:
Embroidery Designs From A Scholehouse For The Needle
The pattern is in PDF format so to read it you'll need the Adobe Reader software on your computer. Most computers come with it, but it is free and can be found here.
Download Instructions: Right-Click the link and select either "save target as" or "save link as" depending on what browser you are using or simply click on it and save or print.
If you like this page, be sure to share it with your friends and like our Facebook Fanpage so you can get updates every time we post new patterns.
Enjoy!
This post contains affiliate links. For more information, please see my disclosure policy.