Welcome to the VTNS (Vintage Textile and Needlework Sellers) Facebook Fanpage Fan Freebie Friday. Today we are sharing a beautiful lacy bedspread vintage crochet pattern.  The design reminds me of the gingerbread lattice on a the porch of a Victorian Era home.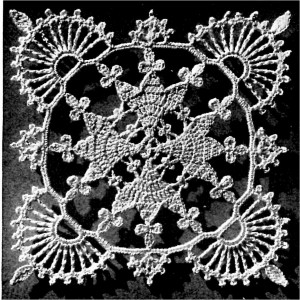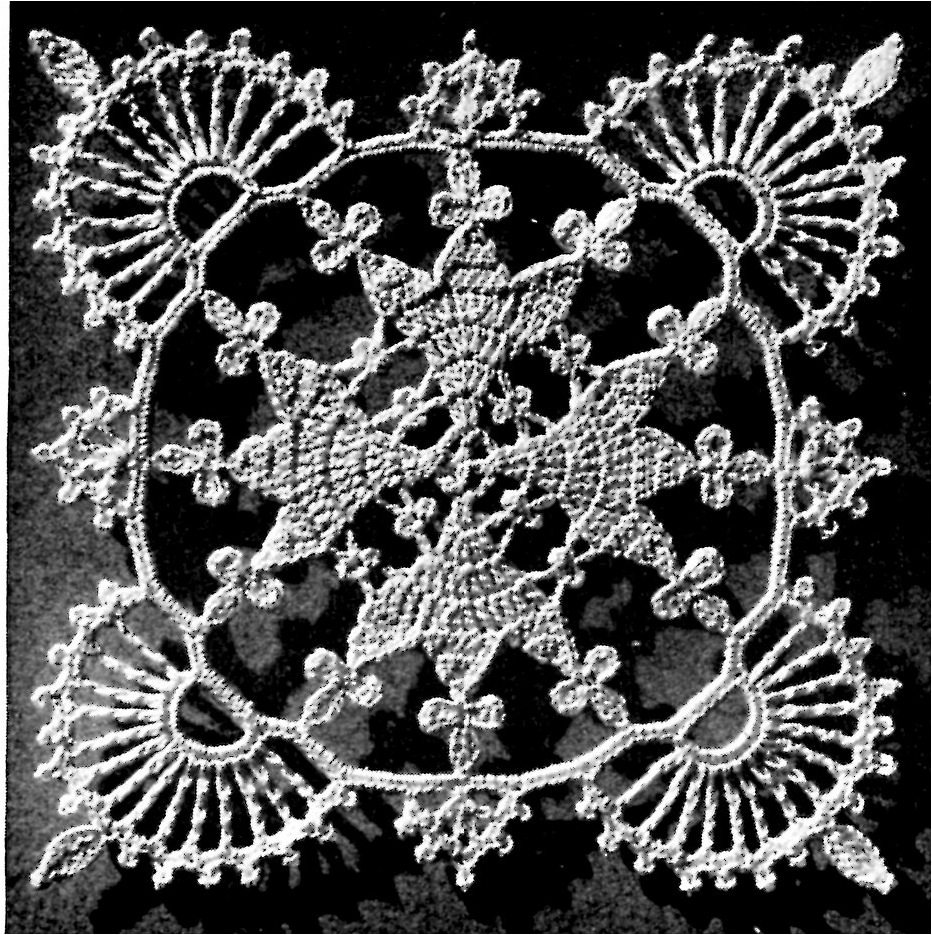 A great pattern for lace lovers.  It's called "Lace Valentine" and graces the cover of a publication from Lily Crochet Cotton called Crocheted Bedspreads. This pattern booklet is not dated but I'd guess it's from the 1940s.
Each block measures about 5¼ inches square when blocked and requires 45 yards. Lily's Skytone Mercerized Crochet Cotton is called for, but no longer available.  Mercerized thread undergoes a process to make it stronger and give it a luster.  There are many suitable crochet cottons for bedspreads available now that you could substitute.  Just make sure the mercerized cotton thread you choose matches the size of the motif when finished, 5¼ inches square.
The Correct Sizes of Crochet Hooks chart below will help in finding a substitute for the Sky-Tone cotton thread.   You'll notice that the same size crochet hooks are suggested for the Size 10 cotton and the Sky-Tone Size 1, but still check the finished motif's measurements.
Even though this is described as a bedspread pattern each of the pretty motifs are crocheted  individually and then joined together.  So you could make a pillow, tablecloth or any size bedspread out of this pattern.  It would just depend on the amount of lacy blocks you crocheted and how you join them together.
When you look at the pattern instructions you'll notice that it requires you to crochet "Clusters" which are explained in the book:
CLUSTER – This consists of 2 or more dc, tr, dtr, or tr tr, gathered together at top into a tight group. Hold the last loop of each st on hook, then thread over and draw thru all loops on hook at once, pulling tight. Stitches can be made thru either both loops of stitches of previous row or thru the back loops only. If not specified, take up both loops.
I've also included the complete Terms and Explanation of Stitches page from the booklet.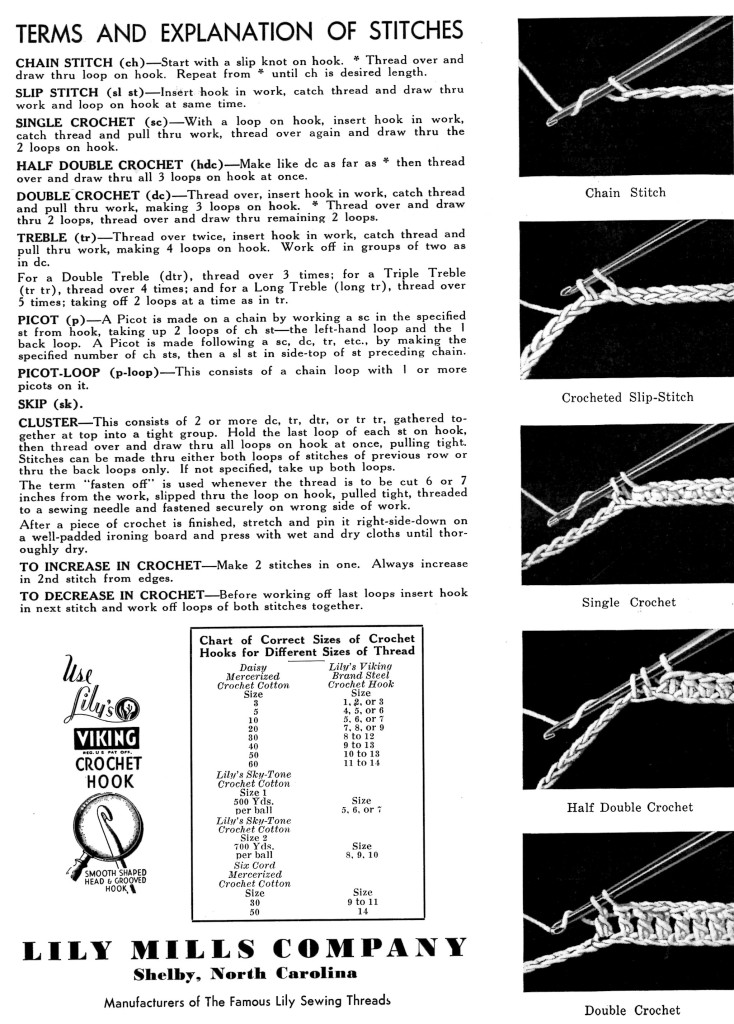 Looking at the design for this pattern, if you leave off the Clusters on each corner, I see a really pretty Snowflake Ornament. You could make several in white and stiffen them (find Crochet Snowflake Stiffeners and instructions in this post).
They would be a pretty decorations for your tree, as a tag on a package, or garland hung around your home.  This is really a versatile crochet pattern.
The PDF file for the pattern is below:
Lace Valentine Bedspread Design
The pattern is in PDF format so to download it you'll need the Adobe Reader software on your computer. Most computers come with it, but it is free and can be found here.
Download Instructions: Right-Click the link below and select either "save target as" or "save link as" depending on what browser you are using.
Enjoy and Happy Valentine's Day!
This post contains affiliate links. For more information, please see my disclosure policy.