Embroidery Pattern
Today's freebie is a lovely embroidery pattern for a round cornered handkerchief. Of course, this pattern has many other uses such as on a tablecloth, placemat or table topper just to name a few. It's from a 19th century Godey's Lady's Book or Peterson's Magazine. I'm not sure because it was a loose page.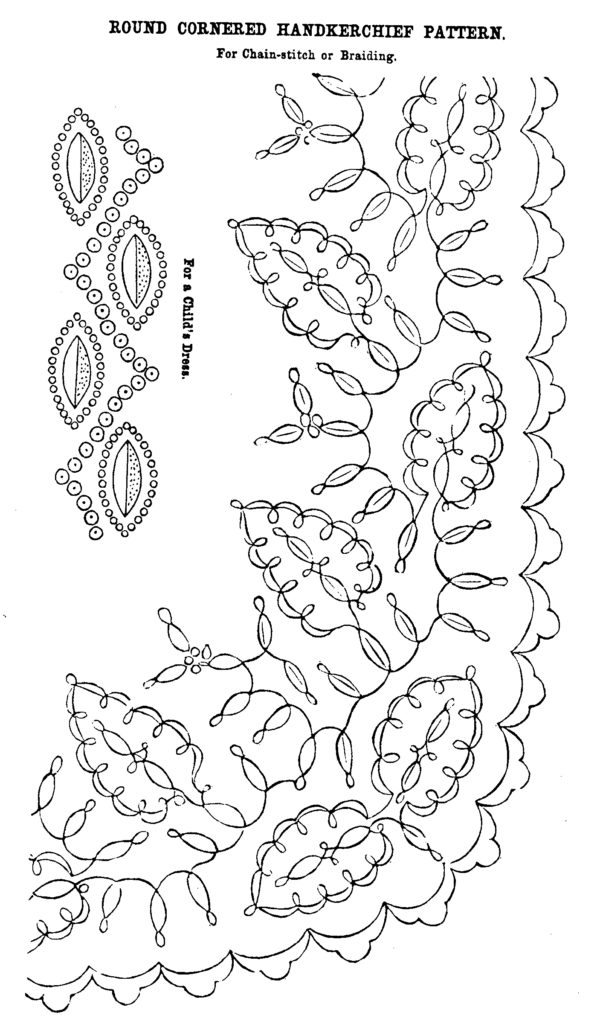 Download Instructions: Right-Click the photo and select either "save target as" or "save link as" depending on what browser you are using or simply click on it, it will open in a new window and there you can save or print.
You'll have to trace the pattern onto your fabric once you print it out. There are many ways to do this. Look at this earlier blog post, Briggs Embroidery Transfer for some ideas on tracing the pattern onto your fabric.
Chain Stitch or Braiding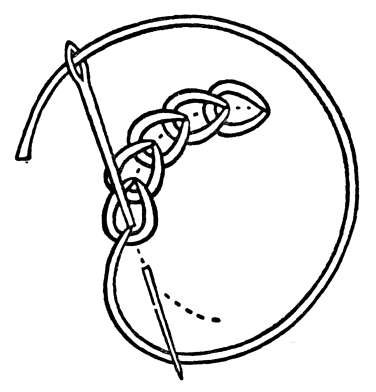 For information on these two stitches over at the Sublime Stitching, Jenny Hart gives a great How To: The Easiest Chain Stitch photo tutorial.
A Braided Chain Stitch tutorial can be found at Sarah's Hand Embroidery Tutorials website.
I would also check out Mary Corbet's extensive How To Videos on the Needle 'n Thread website. There are many step-by-step videos that will help with learning these stitches.
Lace Cape
Before I go, I wanted to share the other side of this embroidery pattern page. It's a lovely drawing of a lace cape.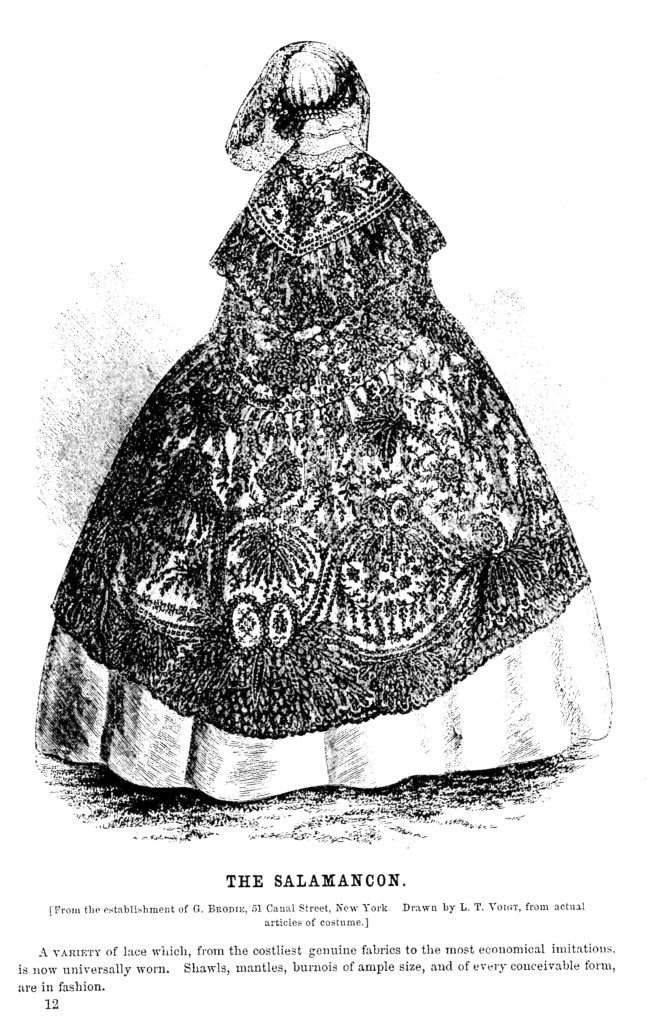 Wow, isn't it something! I looked up Salamancon and didn't find any information other than Salamanca, Spain. Where the traditional dress includes absolutely beautiful embroidered garments. So possibly the name came from there.
With a little more research, it looks like the establishment of G. Brodie contributed many articles of clothing that were drawn for the pages of Godey's Lady's Book magazine. I found several illustrations when I did a search for G. Brodie, 51 Canal Street, New York.
If you like this page, be sure to share it with your friends and like our Facebook Fanpage so you can get updates every time we post new patterns.
Enjoy!
This post may contain affiliate links. These affiliate links help support this site. For more information, please see my disclosure policy.