Welcome to this Friday's VTNS Fan Freebie!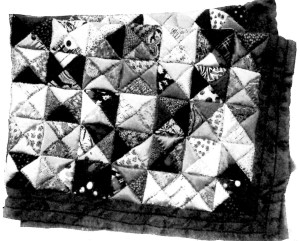 Is there any better way to spend a cold day than sitting in front of a fireplace, sipping cocoa under a cozy quilt?
Known as a Biscuit, Bubble, Pillow or Puff quilt, this type of quilt has been around a long time. Many of us will remember making or being given one in the 1970's when it was very popular.
A 1930's article for a Cold Weather Comfort stuffed quilt pattern has a little different take on the Puff Quilt. I share the full article and a PDF file below.
It uses squares built by cushioned triangles, the fabric is the same on both sides so the comforter is reversible and needs no lining or quilting. It can be made in any size.
The puffs are made by folding 5 inch fabric squares into a triangle, sewing one side, turning to the right side, then stuffing them lightly.
After several are stuffed, you turn in the other side and baste them together. The squares are formed by joining the seams of four triangles.
After all the squares are joined together, it's finished with a sateen border which can be padded and sewn to the comforter with a whip stitch.
It ends up being very pretty and uses lots of leftover fabric scraps in the process.
This About.com tutorial, Learn How to Make a Puff Quilt explains how to make the type of Puff Quilt most people are familiar with and is a good place to start.
At the CookCleanCraft.com blog there's a great picture tutorial on how to make a Quilt as You Go Puff Quilt or Mat.
Here's the article: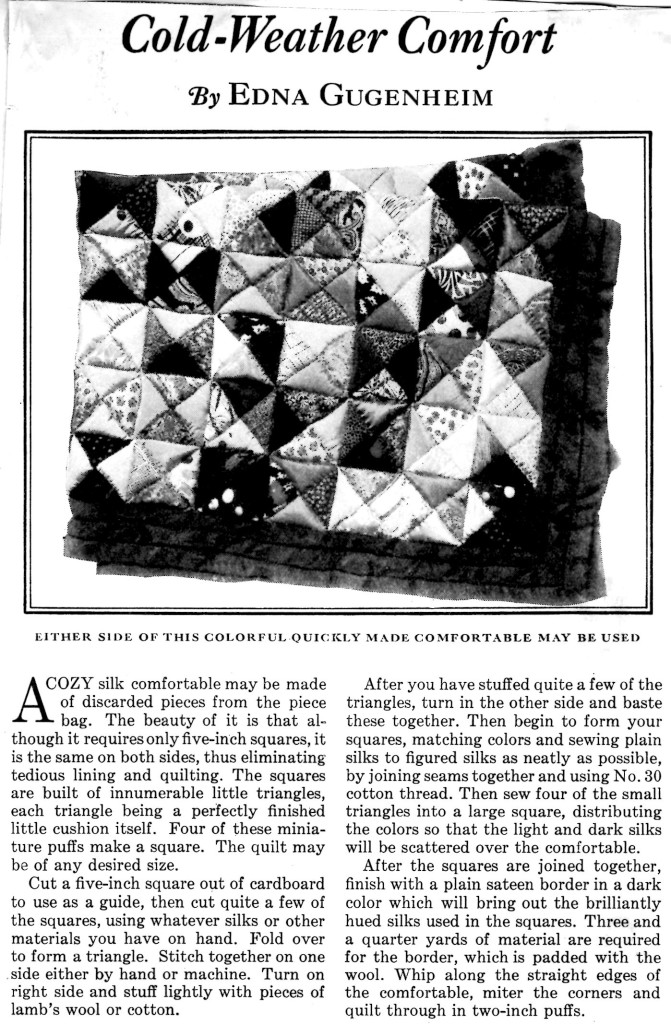 Below is a PDF file you can download that is a full page with larger typeset.
The pattern is in PDF format so to download it you'll need the Adobe Reader software on your computer. Most computers come with it, but it is free and can be found here.
Download Instructions: Right-Click the link and select either "save target as" or "save link as" depending on what browser you are using or simply click on it and save or print.
Please share your favorite needlework hints, tips and projects in the comments below or with us on Facebook.
Enjoy!