Flower Looms
Today is about vintage Flower Looms. If you're into vintage crafts I'm sure you've seen these little plastic looms around.
I found the cutest Lamb embroidery kit that included the Studio Twelve Multi-Flower Loom. I have it listed in my store on Ebay right now. It's adorable and started me thinking about all the projects you can do with a flower loom.
Now I know I have a vintage booklet on them around here somewhere but I can't find it at the moment. So I started doing some searching and turned up several good sites that talk about Flower Looms.
Flower Looms on Pinterest
Of course, Pinterest is the first to come up in search with it's very own page of Flower Loom projects. Sample below: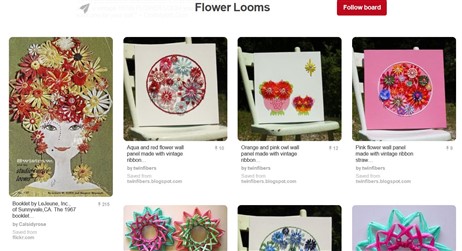 Links to Find Out More About Flower Looms
The website Knitting-and.com has several pages I'd like to share, the first is a page of links to Flower Loom and Other Small Loom Tutorials. You can find just about everything you need to know about looms on this page.
Besides the tutorial page she has a PDF download for a 1937 Fleischer Flower Loom Creations booklet on the site as-well-as an original Studio Twelve Multi-Fleur Fun Projects booklet to download.
You can find numerous vintage looms on Ebay. Here's a link to a search for them.

And Amazon has one from Clover called a Hana-Ami Flower Loom 6 Shape Set
It's nice because it includes 6 Shapes; 3 round, 2 square and 1 hexagon with a base, cover, centering loom, and tapestry needle all packaged to fit together easily to store.

The Craftstylish website has a tutorial on How to Make Flowers Using a Vintage Flower Loom with some terrific photo shots to craft along with. She uses a type of Raffia with the brand name Swistraw to make her flower.
To round out this post on vintage flower looms I found a couple of books on Amazon that looked interesting.


If you like this page, be sure to share it with your friends and like our Facebook Fanpage so you can get updates every time we post new patterns.
Enjoy!
This post contains affiliate links. For more information, please see my disclosure policy.