Godey's Lady's Book and Magazine
Today's quilting pattern comes from a Godey's Lady's Book and Magazine published in America in the 19th century for women. Below is one of the beautiful fashion plates included in these books.

A Lady's Book
In 1830 when Louis A. Godey first published this women's magazine it was titled simply Lady's Book. Around 1840 he added Godey's to the title. Publishing stopped in 1898 and was taken over by another magazine The Puritan, A Journal For Gentlewomen.
Among one of the first and most successful editors of an American women's magazine was Sarah Josepha Hale (link to a short biography of her on Encyclopedia Britannica).  She began editing Godey's Lady's Book after 1837. During that time until 1860 the circulation went from 70,000 to nearly 150,000 copies every month.
Godey's left politics out of his magazine. Each monthly issue was filled with short stories, recipes, patterns, illustrations and what it's best known for, the lovely hand-colored fashion plates.
The Complete Page
As an example I've included the entire page the star design came from. I'm not sure when in the 1800's this design was published there was no date on this loose page.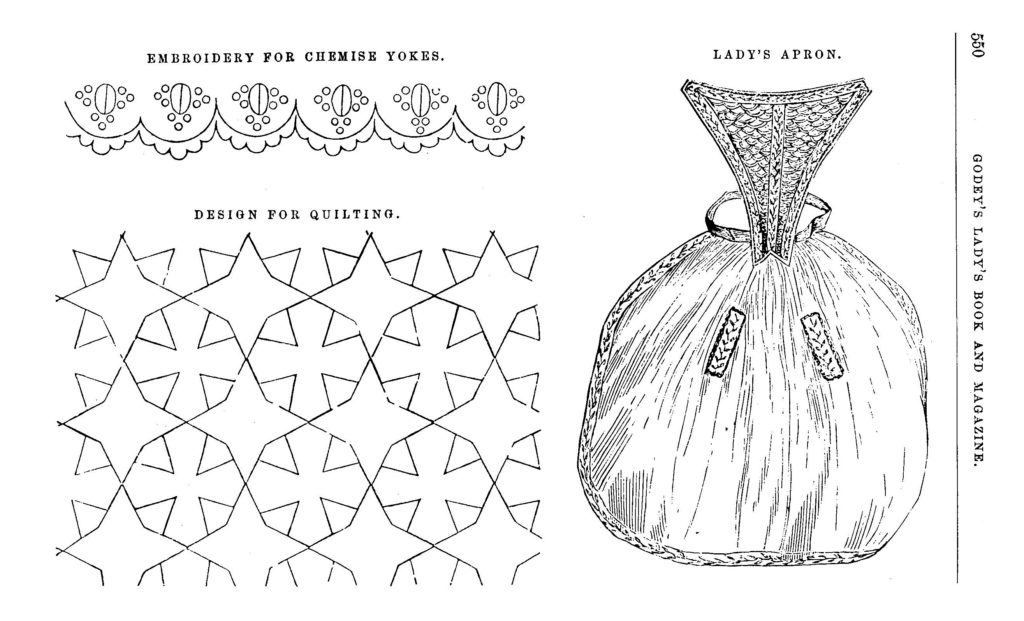 Looking for Full Issues to Download
The Hathi Trust Digital Library has a Catalog Record of full scanned editions of the Godey's Lady's Magazine from Libraries and Universities. Click on any issue and a full scanned e-book will display. In the column to the left of the display page is several options. One of them is "Get this Book" with the option to download a page or the complete issue as a PDF.
On the right side of the display are options to see one page at a time, scroll or flip through the pages, thumbnails of all the pages and more. Put a couple hours aside, because once you start looking around it's hard to stop.
Design For Quilting
Not only can this design be used for quilting but coloring, embroidery and applique come to mind. Use your photo editing software or printer to resize the image.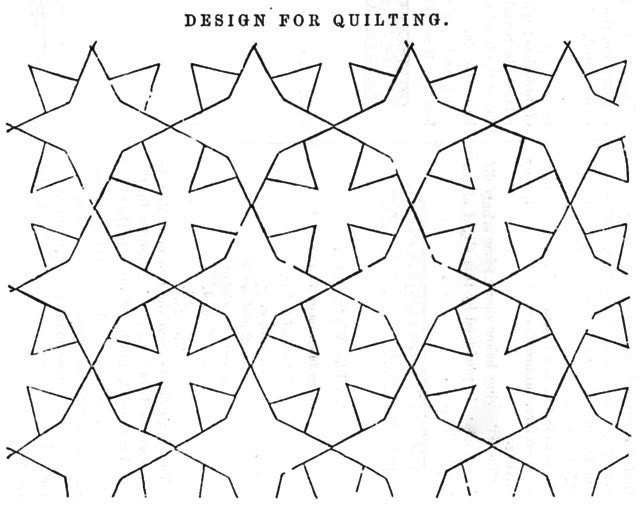 Download Instructions: Right-Click the image and select either "save target as" or "save image as" depending on what browser you are using. Also you can click on it, it will open in a new window and there you can save the image.


If you like this page, be sure to share it with your friends and like our Facebook Fanpage so you can get updates every time we post new patterns.
Enjoy!
This post contains affiliate links. For more information, please see my disclosure policy.