Welcome all our VTNS (Vintage Textile and Needlework Sellers) Facebook Fans! Glad you've joined us for our Fan Freebie Friday.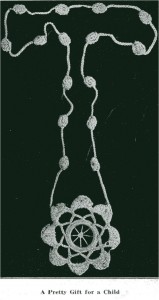 Today we have an easy and quick vintage crochet pattern for a Child's Necklace with Coin Purse Pendant. This particular pattern came from a circa 1917 Corticelli Lessons in Crochet pattern book. Since this little book is full of wonderful crochet patterns, I'm sure we'll be sharing more from it.
This pretty necklace would make a nice gift for a child or adult for that matter. The color choices are yours and would be perfect to match a sweater or item of clothing you're already giving as a gift.
The pattern uses a ball of light blue Size 30 cotton thread and a No. 12 crochet hook. Size 30 cotton thread is used for crochet, tatting, pulled thread, bobbin lace, and needle-made lace.
The pattern is in pdf format so to download it you'll need the Adobe Reader software on your computer. Most computers come with it, but it is free and can be found here.
Download Instructions: Right-Click the link below and select either "save target as" or "save link as" depending on what browser you are using.
There are two choices, one with the instructions only and one with the instructions and picture. Both can be saved to look at later, but the instructions only will use less printer ink if you'd like to print them out.
Here is the link to the instructions only: Vintage Crochet Pattern Instructions for a Child's Necklace without picture
This link includes the instructions and picture: Childs Necklace Instructions with Picture
Hope you enjoy our first Fan Freebie Friday and we look forward to many more!
Enjoy!
If you like this pattern, make sure you click the Like button below. That way you'll know the minute we share our Fan Freebie Friday pattern every week.