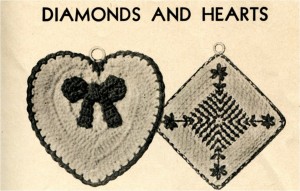 Diamond and Heart Potholders
For today's Freebie we have a Valentine theme.  Crochet patterns for Diamond and Heart potholders.
What goes better with Valentines Day than a diamond? The gift of love. I know the potholder doesn't come close to the real thing, but it is a cute pattern.
What kind of yarn should I use?
I need to make a note of what kind of yarn and the amount you'll need for your potholder project, since it isn't spelled out in the pattern. The patterns call for a ball of White and 50 yards of color. First of all, you should always use a cotton yarn for potholders, since acrylic can melt if it gets in contact with a burner.
This pattern is from an Enterprise Yarn booklet from the 1940's.  Enterprise Yarn is no longer made. Their claim to fame was that your project can be worked up in no time. "By crocheting with Enterprise Yarn, because of it's size, it makes only 5 or 6 stitches to the inch". It's also heavy, absorbent and soft.
Looking around I found a couple yarns that may be it's equivalent for this project.  Examples of Kitchen Cotton Yarn:
Lily Sugar 'n' Cream
Lion Cotton by Lion Brand Yarns
Peaches & Crème by Elmore Pisgah
Bernat Handicrafter Cotton
Aunt Lydia's  Fashion Crochet Cotton in #3 with a 00 Hook may also give you the right gauge for this project.
All of these examples are worsted weight / medium weight yarns.
PDF Pattern Download:
The pattern is in PDF format so to download it you'll need the Adobe Reader software on your computer. Most computers come with it, but it is free and can be found here.
Download Instructions: Right-Click the link and select either "save target as" or "save link as" depending on what browser you are using.
If you like this post, be sure to share it with your friends and like our Facebook Page so you can get updates every time we post new patterns.
Enjoy!
This post may contain affiliate links. These affiliate links help support this site. For more information, please see my disclosure policy.