It's Good Friday and today we have some terrific cross book mark patterns from 1949. The nice thing about them is they're easy to make, at least the crocheted ones, and can be made in a weekend. Plus they can be used for gifts for many occasions including Mother's Day which will be here soon.
Two are crocheted and one is tatted. We did a blog post in January of this year about tatting that includes instructions, you can find it here.
They can be made with Tatting Cotton, Size 25, tatting shuttle or Mercerized Crochet Cotton, Size 30 and a size No. 12 or No. 13 steel crochet hook.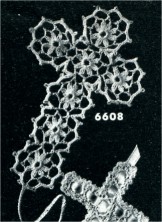 The first one is:
Crocheted Motif Cross Book Mark Pattern
This cross book mark would be very pretty using a variegated color cotton thread.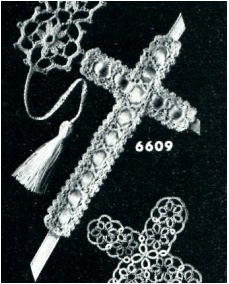 The next crocheted book mark includes a narrow ribbon through it.  Very pretty and easy to personalize with the color ribbon.
Crocheted Cross Book Mark No 6609 PDF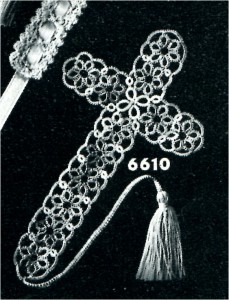 This is the tatted book mark. Also would be pretty done in a variegated thread. The tassel on the end makes it easy to find your book page. Again there are how to tatting instructions on an earlier blog post you'll find the link above.
The instructions for this book mark are small and a little hard to read so I've put them on two pages.
Tatted Cross Book Mark 2 pages PDF
Hope you enjoy the patterns for these pretty little book marks. Please be sure to share a photo if you make one.
Enjoy!