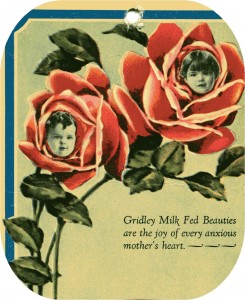 Aren't the little cherub baby roses adorable?
I found these wonderful cards for ordering dairy products in the late 1920's and early 1930's. One side of the card features recipes and the other is for your order. They are from the Gridley Dairy Co of Milwaukee, Wisconsin. Gridley Dairy was one of the city's largest milk producers and distributors.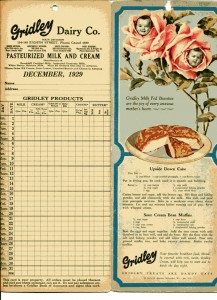 When I find things like this I like to do a little research.  The Gridley Dairy was established in 1910 and later bought out by Sealtest. They were well known for their ice cream. Below is a  photograph of a Gridley Dairy Delivery Wagon drawn by a horse from the UWM Libraries Digital Collections.  I can just imagine the delivery salesman leaving one of these wonderful cards at the home of a customer.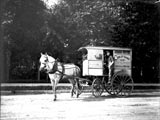 I also found a photograph of the Dairy itself at OldMilwaukee.net.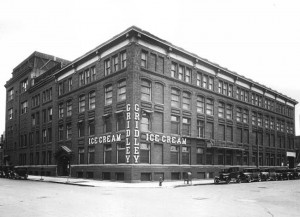 It was a three story brick and concrete milk processing and bottling building. Built in 1909 and demolished in 1966. Click on the photo to enlarge it and take a look at the autos sitting next to the building in this photo.
Now on to the recipes: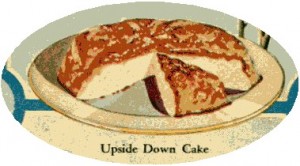 First Part –
1/4 cup butter        1 cup crushed pineapple      1 cup brown sugar
Put in frying pan (ovenproof), let cook until it is smooth and bubbling.
Batter –
1/4 cup butter         1/2 cup milk      3/4 cup sugar       1 tsp baking powder
1 egg, beaten      1-1/4 cups sifted flour
Cream butter and sugar, add the beaten egg.  Sift flour and baking powder, and add alternately with the milk.  Mix well, and pour over pineapple mixture.  Bake in moderate oven about thirty minutes.  Let cool ten minutes before turning out of pan.  Serve with whipped cream.
For the full recipe card click here:  Upside Down Cake Recipe. After you download the recipe, hit the back button on your browser to come back and download the others.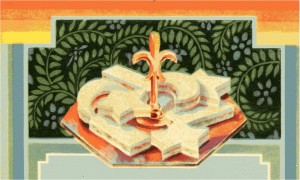 How about a couple cream cheese finger sandwiches? Recipes on this card include:  Cream Cheese Date Sandwiches, Cream Cheese Honey Sandwiches and
Cream Cheese Cherry Sandwiches.  If you have shaped cookie cutters, what fun to make for a party.
The card for these sandwiches is here:  Cream Cheese Sandwich Recipes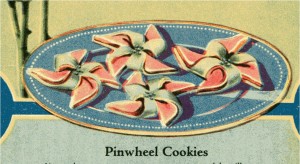 Last but not least a Pinwheel cookie Recipe.
I haven't tried any of these recipes yet, but they sure look good!